Tharmacol plates and glass banned, small plastic water bottles won't be used in public meetings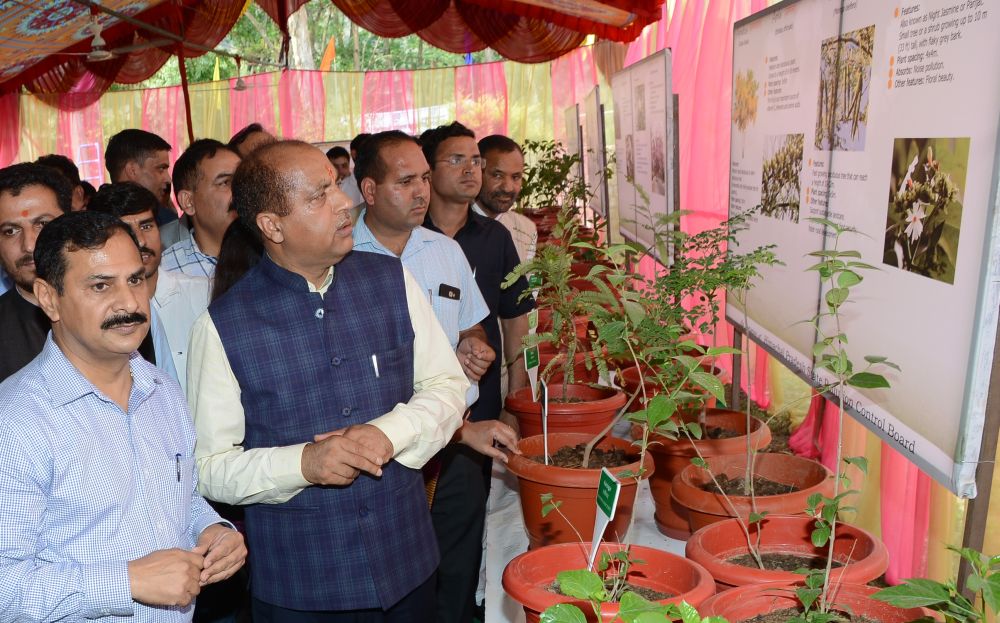 Himachal Pradesh Chief Minister launched Pollution Abating Plants Abhiyan (PAPA) on the occasion of World Environment Day-2018 celebrated at Government Polytechnic College Sundernagar in Mandi district today. Jai Ram Thakur said that the World Environment Day was an awakening call for individuals to take charge of protecting the environment and to realize the severity of plastic usage in daily life.
He said that World Environment Day was the "people's day" for doing something to take care of the Earth. He said that the World Environment Day should not be a ceremonial occasion, but something concrete must come out from this. He said that environment was one of the dearest issues for the Prime Minister Narendra Modi. He said that environment conservation and cleanliness must become part of our life. He said that that the cleanliness campaign has become a people's movement due to awareness campaign launched by the Prime Minister. He also urged the students to come forward for environmental conservation. He said that 67.5 per cent geographical part of the State was covered with forests, but still lot more needed to be done for effective environment conservation.
The Chief Minister gave a clarion call to the people of the State to work collectively for making various policies and programmes initiated by the State Government a success. He said that polythene was rampantly polluting our water bodies, harming marine life and posing a threat to human health, has been one of the major concerns of environmental bodies this year.
Water crises in Shimla due to pollution and degradation of water catchment areas
Chief Minister Jai Ram Thakur said the water crisis in Shimla town was due to the pollution and degradation of water catchment areas, rivers and water bodies supplying water to the town. Thakur said that pollution reducing plants would be developed in State nurseries and provided to the people for plantation. He said that the State Government has asked the Industries Department to prepare a project for setting up unit for pine needles.
He said that one steel bottle would be provided to each Government School students in a phased manner to discourage use of plastic bottles under the Mukhiya Mantri Vardi Yojana. He also urged the parents to buy steel bottles for their children instead of plastic bottles to help in environment conservation.
Tharmacol plates and glass banned
The Chief Minister announced that use of tharmacol plates and glass would be banned in the State as they were major cause of pollution in the State. He said that plastic water bottles less than one liter capacity would be banned in the public meetings in the State.
He said that 10 solid waste management plants would be established in different parts of the State for scientific management of waste. He said that a ploytheme shedder machine would be provided for Sundernagar and Ghumarvin town.
He said that special thrust would be laid on plantation of trees form 5th June to 1st July, 2018 in Baddi, Nalagarh, Parwanoo, Kala Amb, Poanta Sahib, Sundernagar, Damtal and Una as these were the most polluted cities of the State.
He also planted a sapling in the campus and inaugurated World Environment Day Exhibition 2018 on the occasion. He also released publication brought out by the State Pollution Control Board. He also released a publicity poster on environmental conservation on the occasion.