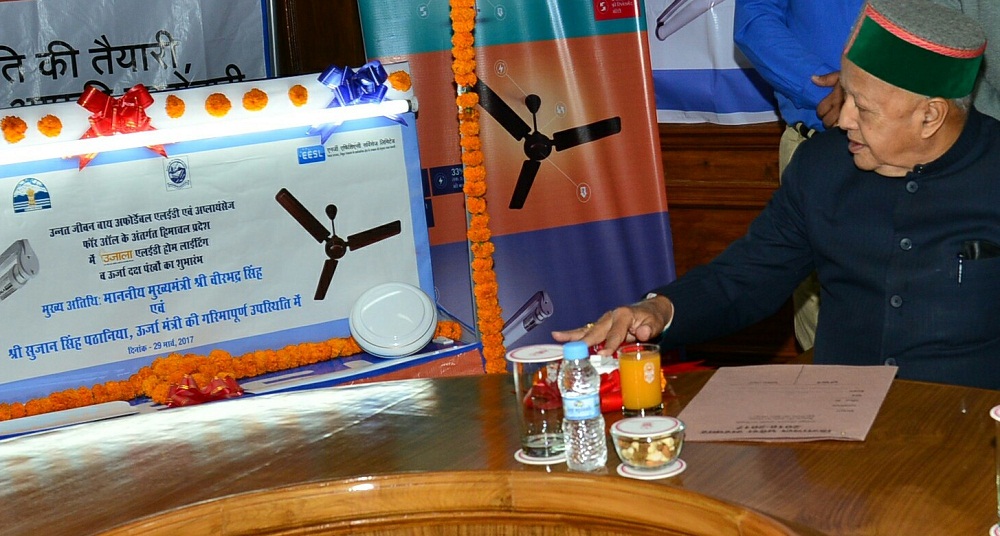 In a major initiative aimed at promoting energy efficiency in the State, Chief Minister Virbhadra Singh today launched distribution of LED tube lights and Energy Efficient Fans under 'Unnat Jeevan by affordable LEDs and Appliances for All' (UJALA) scheme.
The scheme is an extension of old domestic efficient lightning programme. The energy efficient LED tube light would be distributed in a phased manner.
Under the scheme a tube light would be cost Rs. 230/- along-with three years free replacement warrantee. The BEE 5 star 50 watt fan to replace conventional 75 watt ceiling fan will cost Rs. 1150/- along-with two years free replacement warranty thus saving 33% electricity.
Singh said that 'UJALA' was an integral part of energy conservation initiative of the State Government and had been very successfully adopted by the people of the state. The innovative energy business model would result in large-scale replication of energy efficiency measures across the State.
Energy Efficiency Services Limited (EESL), a joint venture of Public Sector Units (PSUs) of Ministry of Power, Government of India will implement this programme across the state in a phased manner in collaboration with State Government and HPSEBL.
Virbhadra Singh said that energy efficiency was a key thrust area of the State Government and emphasis had been laid on scaling up its implementation. The launch of this initiative follows our commitment of such programme during 2015-16 budget for distribution of LED bulbs. Approximately 74 lakh bulbs to 12 lakh consumers had been distributed which resulted into energy saving of approximately 150 MU per annum, reflecting the success of the programme, he said.
He expressed hope that this new initiative also will achieve the success as similar to that of the LED bulb distribution programme.
MPP and Power Minister Sujan Singh Pathania said the programme would be implemented in all the districts in a phased manner.
Chief Secretary V. C. Pharka, Additional Chief Secretary (Power)-cum-Chairman HPSEB Ltd. Tarun Shridhar, M.D. HPSEB Ltd. Er. P.C. Negi, Director (Operation) Er. R. K. Sharma, Executive Director (Personnel) HPSEBL Kumad Singh and representatives of EESL were also present on the occasion amongst others.