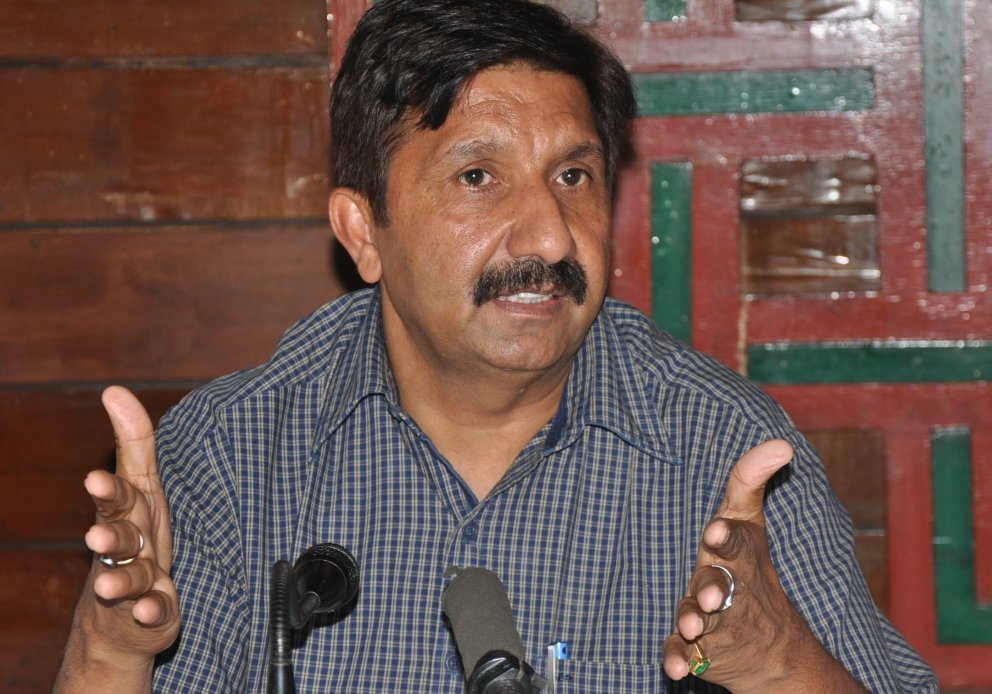 Industries Minister, Mukesh Agnihotri today came out in support of the Chief Minister Virbhadra Singh and said that the leader of Congress Party is quite clear whereas the BJP is a divided house over Chief Ministerial candidate. Virbhadra Singh is their leader and backbone of Congress party and he will continue to be their leader. He will be elected Chief Minister for record seventh time, claimed Agnihotri.
The Minister was sharing Dias with the Chief Minister during public meeting at Chururu, in Amb in Chintpurni constituency on Wednesday.
He attacked the BJP for airing false statements and distorting facts regarding creation of jobs by the present government. Agnihotri said that as many as 43000 jobs are given during the last four years of the present government and the government has proposed 19000 jobs in next fiscal year. He said that 2000 Patwaris are inducted besides their 3000 assistants for the first time.
Instead of pressing for their demands the BJP members believe in walkout and sloganeering during Assembly session. The BJP MLA's never came with their demands for the development of the areas they represent. Now when the elections were nearing, they started propaganda of Mafia Raj against the government. In fact, there is one history sheeter involved in trafficking of drug trade and too is from the BJP, when enquired about his antecedents.
The budget as proposed by the Congress government is completely Tax-free and for benefit of every section of society, which have silenced the BJP.
The Mukhya Mantri Khet Sarakshan Yojna, is a step to protect and fence the fields of the farmers this fiscal year with 60 percent subsidy to save farmers from the menace of abandoned cattle, wild animals and monkeys.
He said that the BJP is unnecessarily raking up and opposing the issue of Dharamshala as the second capital of Himachal Pradesh. They are doing so because they could not take a decision in this direction, despite the fact that one of the Chief Ministers was from Kangra itself. He said that the financial claims of Rs 150 crore of land acclaimed out of Swan River Channelization is lying pending with the Central government.
He said that it was during the leadership of Virbhadra Singh, the Indian Oil depot was sanctioned for Una, IIIT at Una for which a provision of Rs. 20 crore was made but the State BJP leaders had also created hindrance in this too. The Central University issue is lying pending because of the State BJP leaders.
He said that BJP leaders believe in mud-slinging on their opponents and they should mend their ways to pave way for healthy politics.