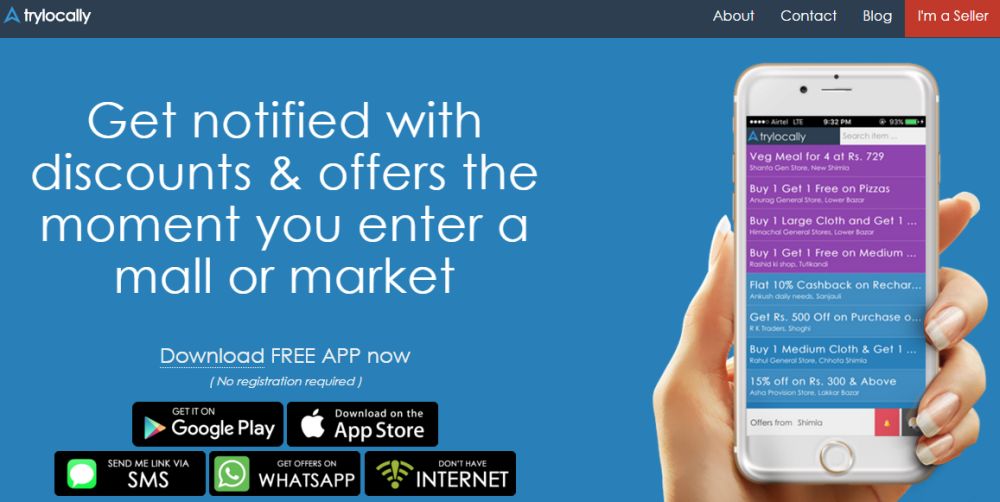 Shimla: Flexinet Solutions, a startup in Shimla, launches mobile application named Trylocally for Android and iOS devices. The mobile application, which runs ideally on smartphone and tablet devices, helps provide retailers and consumers a common platform to connect and collaborate in hyperlocal space.
Trylocally, available free for download on the Google Play Store and Apple App Store, is the first of its kind real-time notification mobile application, which brings latest discounts and offers from retailers/vendors in your locality right onto your mobile devices. The app serves up discounts and offers from merchants across a range of verticals, including shops, restaurants and hotels. Most importantly, the app provides users additional functionality in a very simple and easy-to-use interface that eliminates need for multiple step operation required to know about latest offers and discounts in their respective localities.
The app is brainchild of two tech enthusiasts at Flexinet Solutions, which became an instant hit with other members of the team. Prashant Thakur, one of the app developers, said
"We wanted to create an aggregation tool that displays amazing offers and discounts in form of hyperlocal alerts to help mobile users shop better and cheaper, or find a hotel room in their vicinity that they wouldn't know otherwise was available for half the price",
Rashid Mohamad, the App Developer says, "Trylocally is not just a mobile device app, but a complete mobile hyperlocal marketing solution that caters to WhatsApp and non-internet users via SMS service. That means we cover virtually every mobile phone user under the sun."
Too many hassles of fake products and poor user experience associated with online shopping motivated the team behind Trylocally to come up with the idea of building a platform to bridge the gap between brick and mortar stores and prospective e shoppers, and connect them with each other in their respective locality for better and bigger return on investment (ROI).
What Trylocally offers to its users?
• Flexibility to filter offer notifications on personal preferences
• Vendors can customize their offers and discounts so that deals appeal to different segments of potential customers
• Never miss a discount or an offer in your locality
• Real-time offers and discount notifications from vendors, hotels, restaurants in your locality
• Choose location from where you want to see discounts for the day
• Hassle-free purchase
• Pay for what you can see, feel and try
• Easy and maximum ROI
• Save more and live easy
Trylocally, presently Shimla centric, has plan to spread its tentacles in places like Solan, Mandi, Dharamsala, Chandigarh, and other cities of North India.