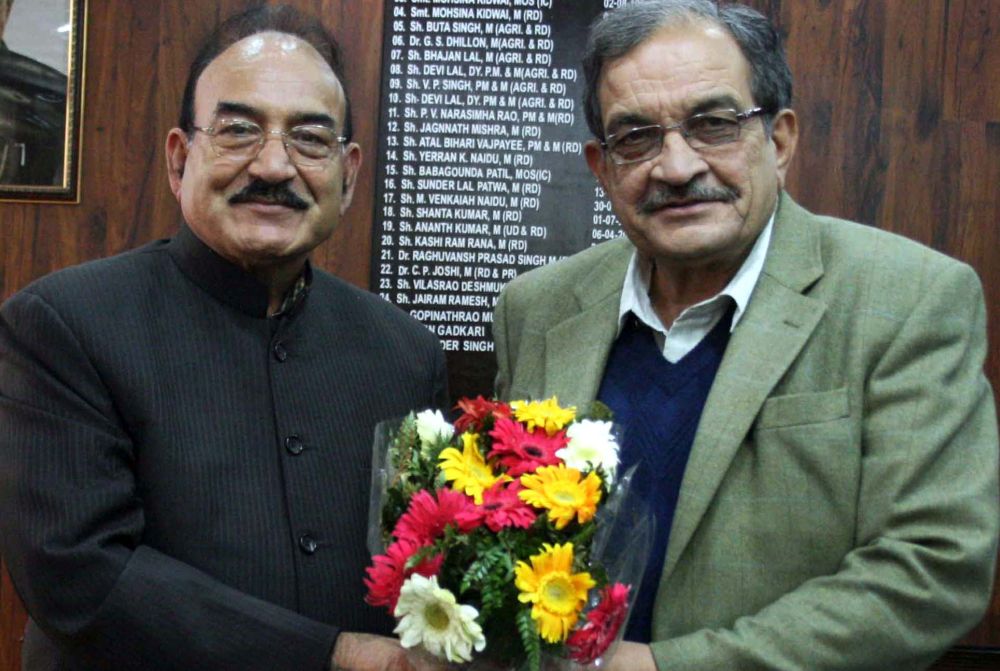 New Delhi: Health and Family Welfare Minister Kaul Singh Thakur has urged the Union Government to approve Rs. 195 crore road proposals submitted by the State Government under Pradhan Mantri Gram Sadak Yojna (PMGSY).
Thakur, in a meeting with Union Minister for Rural Development and Panchayati Raj Shri Birender Singh at New Delhi today, informed union minister that the State had been pursuing the matter with the Central Government to enhance allocation for the year 2015-16 and the Centre had agreed to this demand and it had been increased from Rs. 189 crore to Rs. 271 crore. The sharing pattern has also been maintained at 90:10 for the State, which would help in accelerating the pace of development in road construction.
Kaul Singh also raised the issue of satellite based demarcation and settlement of land besides additional allocation of funds under MNREGA. He said that various rural developmental activities were being undertaken in the State. He requested for liberal financial assistance for completing these at the earliest.
The Union Minister assured Kaul Singh Thakur that other demands of the State Government would be considered sympathetically.
Later, Kaul Singh Thakur also met Union Minister for Law and Justice D.V. Sadananda Gowda and raised creation of more posts of Public Notaries under State quota.
Kaul Singh, who is also holding state Law ministry, apprised the Union Minister that the existing strength of Public Notaries in the State was not sufficient as there was tremendous demand from the public and Advocates for creation of more posts of Public Notaries under the State Govt. quota.
He requested the Union Minister for sanctioning at least 200 more such posts under the State quota to meet out immediate demand of Public Notaries.