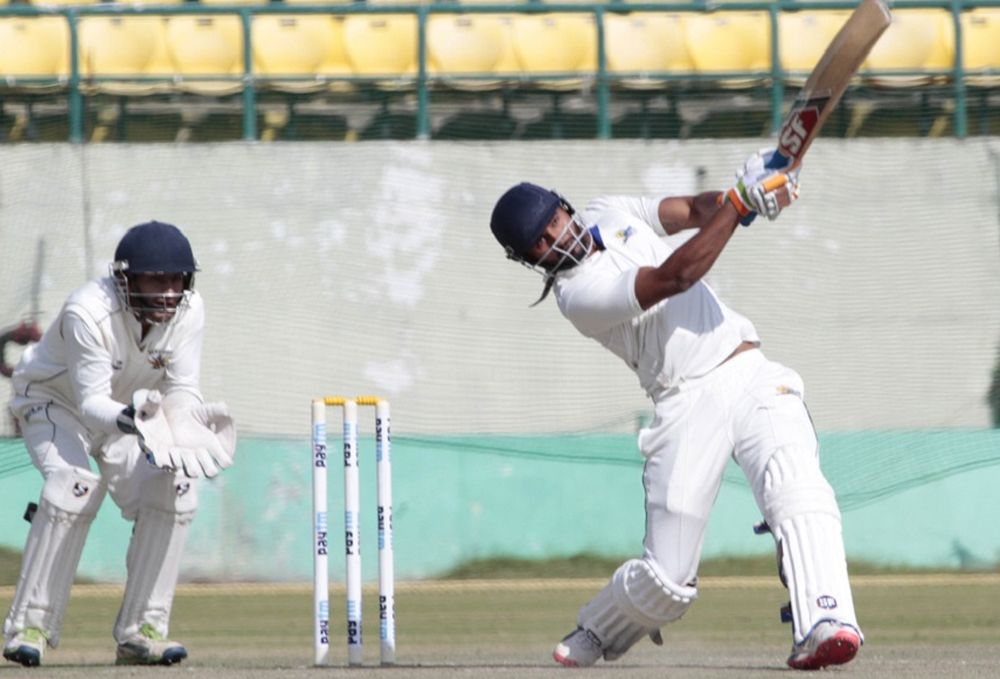 Dharamshala: Himachal marathon man Paras Dogra has slammed back to back double century. In a Ranji Trophy Group C match against Services at Dharamshala cricket ground, Dogra made 227 off 280 balls and helped Himachal to score mammoth 531. In his inning Dogra hit 18 four's and clear boundary rope on eight occasion.
This is his seventh double century and with this inning Dogra also joined the elite club of 6000 runs in his first class cricket career. In his 84 match and 128 inning, Paras Dogra has accumulated 6081 runs with an average of around 52. So far he has scored 20 centuries and 19 half centuries.
Dogra and Nikhil Gangta made 217 partnership for fifth wicket. Gangta scored 98, while Captain Bipul Sharma made 74.
This is paras Dogra's successive double century as in the previous Ranji Match against Tripura, Dogra played 209 inning and helped team to register win with bonus point that placed Himachal team on second spot in the point table.
However, after decent show with bat, Himachal bowlers failed to make any inroad and on the stump of second day of the match, Service team made 105 without losing any wicket. Captain Soumik Chatterjee is unbeaten on 57 while Aanshul Gupta is batting on 46.
Himachal captain used six bowlers, but all failed to take any wicket. In the tournament Service's team is on third spot with the difference of four point.
Himachal team has good chance to qualify for the know-out round, but bowlers would have to put a good show and need to get atleast an inning lead in the match, which will help to make good difference of seven point with Services. Himachal is yet play against table topper Saurashtra, and to avoid situation like previous year tournament, where Himachal team had failed to take inning lead in its last match of the tournament and crashed out from the tournament, bowlers will have to show some teeth and give support to its batsmen.