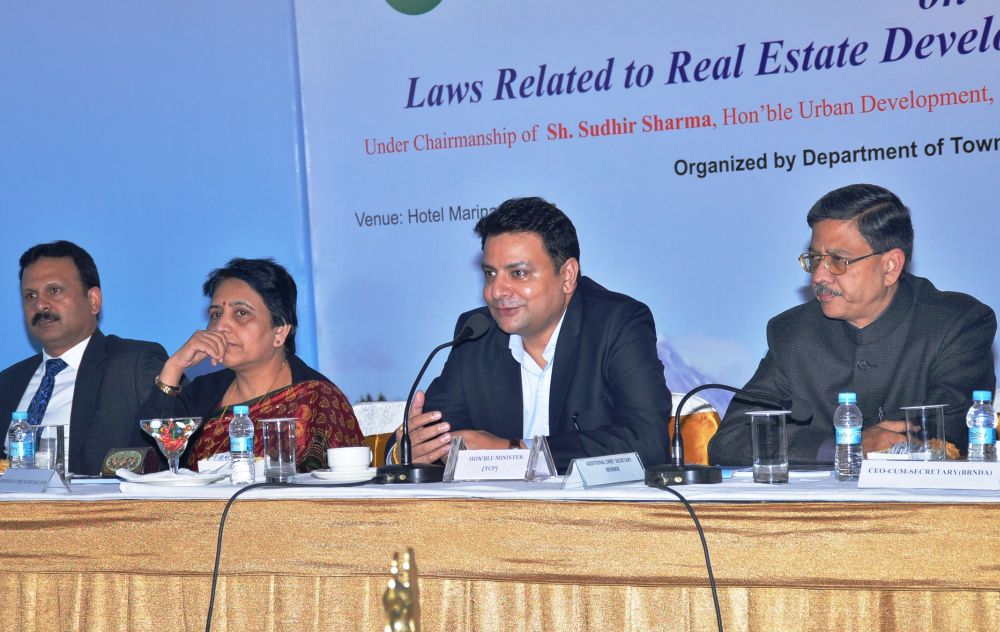 To facilitate the real estate developers in getting various clearances at the earliest, the State Town and Country Planning Department mulling to start single window system, and likely to easy the provisions of Section 118 of H.P. Tenancy and Land Reforms Act to provide relief to the investors in the real estate sector.
Urban Development and Town & Country Planning Minister Sudhir Sharma revealed while presiding over a conference 'Shaping Tomorrow' on laws related to real estate development in Himachal Pradesh organized here today by the department of Town and Country Planning. The conference was attended by the promoters, architects, builders, structure engineers, consultants and other key stakeholders.
Sudhir Sharma said the department was stupendously working on planned and systematic urban and rural growth in a comprehensive manner to check haphazard construction and ensure optimum use of the land. He said the provisions of the H.P Town and Country Planning Act applicable to real estate developers had been enriched in last couple of years.
He said the real estate sector had suffered immensely due to recession but Government was endeavouring to give boost to housing activities and it was committed to bring more investment by winning the trust of more investors for economic growth of the State.
The Minister said so far real estate sector had concentrated on few areas of the State like Shimla, Solan and Kasauli and efforts would be made to take up housing activities in other major towns as well to meet out the housing demands of the people. He added that new planning areas would be identified in the State where infrastructure would be developed with special focus on basic amenities like roads, health and educational institutions, availability of water and communication facilities etc.
He said all out efforts were being made by the TCP department to facilitate the investors and also to protect the interests of the buyers.
Replying to the queries raised by the real estate developers during the conference, Additional Chief Secretary (Revenue) Tarun Shridhar said that Government was considering simplifying the procedure of essentiality certificate for real estate developers by providing relief to them by extending time period for completing the projects.
Additional Chief Secretary (Town and Country Planning) Manisha Nanda, Director, TCP Sandeep Kumar, Additional Secretary (Industries and Forests) D.C. Rana, Chopal MLA Balbir Verma, Member Secretary, State Pollution Control Board Vineet Kumar, CEO, BBNDA Lalit Jain and other senior officers were also present on the occasion.