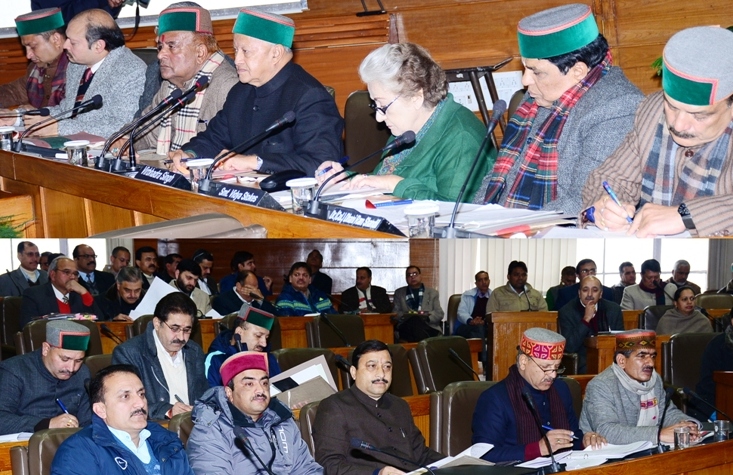 The Himachal Pradesh Government had proposed an annual plan of Rs 4800 crore for the year 2015-16 which was 400 crore higher than the previous annual plan of 4400 crore. The State Government had enhanced the limit of loan sanction facility under NABARD for the year 2014-15 to Rs 765 crore from the existing 500 crore so that the priorities of the MLAs could be met.
The Chief Minister Virbhadra Singh, in a meeting with MLAs of Shimla, Solan, Sirmaur, Kullu, Mandi and Bilaspur districts for finalisation of priorities for the Annual Plan 2015-16, said that the State Government had decided to take finance priorities of MLAs under PMGSY, CRF, World Bank, NRDWP etc and if the funds under the centrally sponsored schemes were not available, then the same would be obtained under NABARD. The decision was taken to obtain maximum benefits under the Centrally sponsored Schemes and more than 250 development projects of MLA's priorities had been got sanctioned under different grant based schemes from Government of India during last one year.
The Chief Minister announced for enhancement of fund limit for submitting Detailed Project Report's (DPRs) of development works to NABARD for each assembly constituency from eight crore yearly to Rs.12.50 crore i.e. cumulatively from 32 crores at present, for financial year 2014-15 to 2017-18, to Rs 50 crore.
He directed all the secretaries and the heads of the departments to solve the problems and grievances of the public representatives on priority and also to ensure immediate action on their suggestions.
Expressing his concern over the delay in preparations of DPRs, he directed the officers to prepare the DPRs in time bound manner so that the same could be sent to GoI or financing agency for undertaking development works.
The Chief Minister expressed his concern over the improvement of roads and said that the pace of work by IPH, Electricity and PWD departments be accelerated particularly in the far-flung areas.
He assured that all water supply schemes would be completed in a time bound manner all over the State and responsibility of the concerned officers would be fixed. The Chief Minister directed the PWD authorities to speed up the work on the roads all over the State.
Irrigation and Public Health Minister Vidya Stokes, Health Minister Kaul Singh Thakur, Social Justice and Empowerment Minister Dr. (Col.) Dhani Ram Shandil, Excise and Taxation Minister Shri Prakash Chaudhary and Rural Development and Panchayati Raj Minister Anil Sharma, Chief Parliamentary Secretaries Virender Dharmani, Nand Lal, Vinay Kumar Shri Mansa Ram, and Deputy Chairman Planning Board, Gangu Ram Musafir also gave their valuable suggestions during the meeting.
Principal Secretary Finance Dr. Shrikant Baldi conducted the proceedings. Chief Secretary P.Mitra, Additional Chief Secretaries, Principal Secretaries and heads of various departments and other senior officers were present on the occasion.