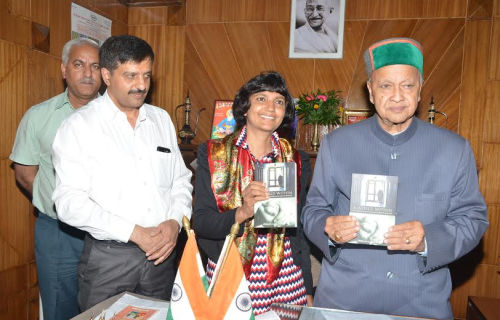 Chief Minister Virbhadra Singh released a book 'A world Within- A remarkable story of coping with a parent's dementia' authored by Minakshi Chaudhry, a famous novelist, writer and a journalist living in Himachal Pradesh. It is her thirteenth book, published by leading International Hay House, India publisher.
The Chief Minister appreciated her efforts and said that the book will give a peep into the parent-child relationship especially when irremediable diseases overpower during the old age. He said that the as many as 65 percent of the elderly depend on others for their day to day maintenance and the book will touch the mind and hearts of readers as it contains the true and touching story of a person who after leading a real good life, who, had once been the strength of his family happens to forget everything, even his former self.
The Chief Minister lauded the writer's initiative, as the story is not of one family but many others, who every day go through such traumas of life where the head of the family keeps dying in slow motion and the period between disease to death preaches the real lessons of life too.
This book indeed is an eye-opener and a personal experience of the author, her feelings for her father who was slowly overtaken by Alzheimer's, a disease where a person forgets everything even his own-self.