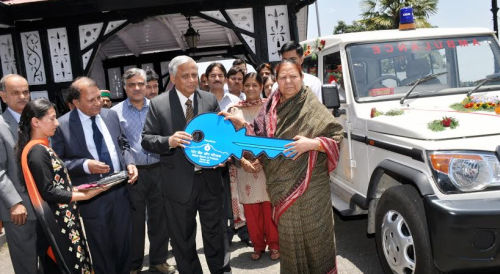 The State Bank of Patiala Shimla (East Branch) donated an Ambulance to the H P State Red Cross Society.
S. Vijay Kumar, Chief General Manager, State Headquarter Patiala handed over the Ambulance Key to the Governor Urmila Singh, who is also the President of the Society.
Governor lauded the initiative of the Bank to come forward for a social cause. She hoped that more institutions would be inspired by this generous act in future and would donate liberally to the State Red Cross which was selflessly serving the poor and under-privileged sections of the society.
Anita Tegta, Secretary to Governor, Gurnam Singh General Manager State Bank of Patiala at Chandigarh, Praveen Arora Chief Manager State Bank of Patiala, Shimla East, P S Rana, Secretary State Red Cross were present among others on the occasion.