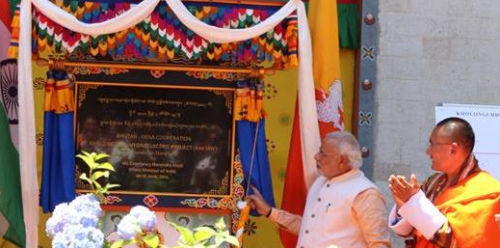 Prime Minister of India Narendra Modi laid foundation stone of the 600 MW Kholongchu Hydroelectric Project in Bhutan being executed by public sector SJVN Limited in joint venture with Druk Green Power Corporation Limited of Bhutan.
The foundation stone was laid at the Parliament House building of the Government of Bhutan at Thumphu in the presence of Bhutan Prime Minister Tshering Tobgay, Sushma Swaraj, Minister of External Affairs, Ajit Doval, National Security Advisor and Sujatha Singh, Foreign Secretary, Govt. of India. On this occasion R.P. Singh, Chairman and Managing Director, SJVN was also present.
The 600 MW Kholongchu HE Project being implemented by SJVN in joint venture with Druk Green Power Corporation Limited is a run of the river scheme located on Kholongchu River in Bhutan.
On completion, the project will generate 2568.52 GWh of energy in a 90% dependable year (with 95 percent machine availability). The project is estimated to cost Rs. 3868.87 crore which will be shared in the ratio of 50:50 by the two joint venture partners.
The Inter-governmental Agreement for the project was signed between Royal Government of Bhutan and the Govt. of the Republic of India on April 22, 2014. In terms of the agreement the joint venture company shall provide 12 percent of the saleable energy to the Royal Government of Bhutan free of cost as Royalty Energy during the first 12 years of commercial operations and 18 percent thereafter for the remaining concession period.
SJVN Limited and Druk Green Power Corporation Limited shall have equal shareholding in the joint venture of the Company.
R.P. Singh, CMD, SJVN, said that an agreement for preparation of DPR for the Kholongchu HE Project had been signed between SJVN and Royal Govt. of Bhutan on 22 December, 2009. The DPR prepared by SJVN has already been approved by the Central Electricity Authority, Govt. of India and Royal Govt. of Bhutan.