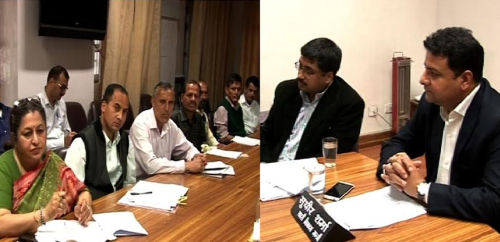 Urban Development Minister Sudhir Sharma said that providing basic amenities in all townships of the State like solid waste management, sewerage, drainage, toilets and roads etc. would be given special priority to facilitate the people.
The Minister stated it in a meeting of Urban Development department organised here today to formulate strategy for undertaking the development of urban areas in the State.
Sharma said that the department would import a new advanced technology for collection and recycling of biodegradable waste. He said that efforts were being made to import advanced technology from Holland and Ambassador of Holland would visit the State on 16 June, 2014 in this regard and would hold meeting with the Chief Minister. Sudhir Sharma said that initially, Dharamshala and Sundernagar towns had been selected for developing them as model towns with community participation.
He said that all the ongoing projects in the Urban Local Bodies (ULB's) and central sponsored schemes like National Urban Livelihood Mission, Rajiv Awas Yojana, Urban Development Infrastructure scheme for Small and Medium Towns (UIDSSMT) will be speeded up. He added that better housing, basic civic infrastructure and basic amenities would be developed under Rajiv Awas Yojana for the people living in the slum areas.
Sudhir Sharma said that there was vast potential for infrastructure development through Public Private Partnership (PPP) and possibilities would be explored in all ULB's for identify new projects besides expediting the already existing projects. He said the first phase of the UIDSSMT was over in the State and second phase would be started soon under which city development plans would be made in collaboration with the foreign experts. Priority would be given to transforming the cities in modern townships by developing roads, paths, streets, rain water drainage system, sewerage system, utility ducts, channelization of nullahs and adequate drinking water.
The Minister said that special drive would be started to remove gaps at ULB level of and non-official/elected members besides creating awareness among the community for development of the towns and proper utilization of the available funds. He also underlined the need to strengthen the financial position of the Urban Local Bodies.
Sudhir Sharma also reviewed the ongoing projects of the department and directed the concerned officer to ensure quality and early completion of these projects.
Capt. JM Pathania, Director, Urban Development, conducted the proceeding of the meeting.
R.D Nazeem, Secretary, Urban Development, Poornima Chauhan, Special Secretary, Sunita Kapta, Additional Director and other senior officers and officials of the department attended the meeting.