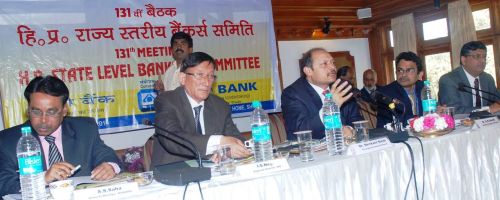 All Cooperative Banks have agreed to participate in National Rural Livelihood Mission where women Self Help Groups (SHGs) will get subsidized loan in line with other commercial banks. Principal Secretary (Finance) Dr. Shrikant Baldi disclosed this while presiding over the 131st State Level Bankers Committee (SLBC) meeting here today, organised by the UCO Bank.
Dr. Baldi said that Banks in the State were performing well and surpassed the targeted budget by disbursing a fresh credit of Rs. 9265 Crores for various activities upto December, 2013. He said that 54 new bank branches were opened in the State during quarter ended December, 2013 and the numbers of total branches have gone upto 1760. In addition, 1305 ATMs were installed by banks for rendering twenty four hours cash requirement of the people. He stressed for opening branches in un-banking villages so that rural folk could get benefit of bank services at their door steps.
Principal Secretary (Finance) said that discussion was on to finalize a new model, where the charge of bank on lended property was to be made through ICT based technology which will curtail various visits of borrowers availing bank loan in the State. He said that under 'Rajiv Rinn Yojna' the State has been given a target to finance 500 dwellings to low income group for the year 2014-15 adding that banks would provide cheaper loan to identified eligible beneficiaries by Urban Local Bodies in the State. He stressed the bankers to stimulate their efforts to cover all needy farmers under Kisan Credit Card Scheme. He expressed satisfaction over 15 percent growth the banks attained through deposits till December, 2013.
Earlier, General Manager, UCO Bank and Convener of SLBC, Himachal Pradesh Dr. S.K. Nandi said that Banks were committed for the socio- economic development of the people of the State. He said that a plan to disburse Rs. 12932 Crore has been approved by banks under Annual Credit Plan for the year 2014-15.
T.N. Sharma, Assistant Manager, UCO Bank proposed vote of thanks. Regional Director, RBI I.S.Negi, Senior Officers of the State Government, S.S. Saha, General Manager, NABARD, and representatives of various banks and development agencies were present in the meeting.