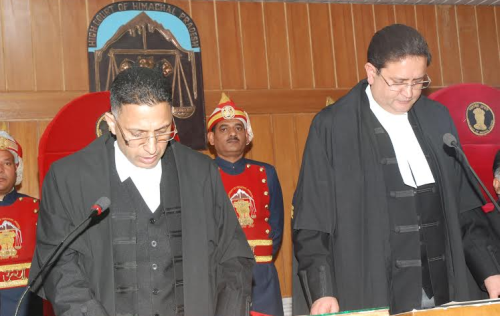 Tarlok Singh Chauhan was sworn-in as the Additional Judge of the Himachal Pradesh High Court today. He was administered oath of Office by the Acting Chief Justice Mansoor Ahmad Mir in a simple ceremony held in the H.P. High Court premises.
The Registrar General A.C. Dogra conducted the proceedings. Justice Chauhan was born on January 9, 1964 in Rohru. He did his schooling from Bishop Cotton School, Shimla and studied law from Panjab University, Chandigarh. He enrolled as an Advocate with Bar Council of H.P. in the year 1989. He practiced relatively all branches of law. He conducted cases on behalf of various Boards, Corporations, financial institutions, public and private companies, Educational Institutions, cooperative Societies etc. He also remained Standing Counsel-cum-Legal Advisor of HPSEB Ltd. and HP State Civil Supplies Corporation.
Justice Chauhan has been actively associated with legal aid programmes. He remained Member of various Lok Adalats held in the High Court and Subordinate Courts. He was appointed Amicus Curiae by the High Court in many important cases relating to violation of environmental laws by the Hydel Projects, ropeways etc., ban on plastic and tobacco products, implementation of Solid Waste Management Projects and framing of road construction policy in Himachal Pradesh.
The Judges of H.P. High Court Justice Sanjay Karol, Justice Rajiv Sharma, Justice V.K. Sharma and Justice Dharam Chand Chaudhary, Lokayukta of H.P. Lokeshwar Singh Panta, Chairman of the H.P. State Consumer Commission Sh. Surjit Singh, Retired Judges Justice (Retd.) Bhawani Singh, Justice (Retd.) Sh. Surinder Singh, Justice (Retd.) D.P. Sood, Advocate General Shrawan Dogra, V.C. Pharka Principal Secretary to the Chief Minister, Shri Tikender Panwar Deputy Mayor M.C. Shimla, Harish Janartha Ex-Deputy Mayor, Abhishek Dullar S.P. Registrars of the High Court Sureshwar Thakur, Sushil Kukreja, K.S. Chandel and Arvind Malhotra, Director of the H.P. Judicial Academy C.B. Barowalia and Member Secretary of the HP State Legal Services Authority Sh. Virender Singh, member of the Bar Council and other prominent persons were also present on the occasion.