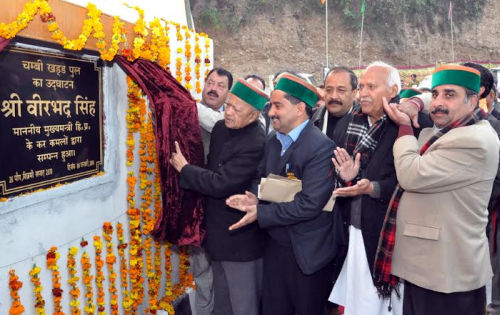 Rait/Kangra: The State Government was endeavouring to create better sports infrastructure in the State and it was being ensured that all the games, especially rural sports get equal promotion.
Chief Minister Virbhadra Singh stated this while presiding over the closing ceremony of six day long Junior National and Master's National men and Women Power Lifting Championship organized at GSSS Rait in district Kangra by H.P. Power Lifting Association.
He said that Rs. 785.09 lakh were being spent on developing sports infrastructure in the State during this financial year and a provision of Rs. 50 lakh has been made under Special Component Plan to construct 50 play grounds so as to provide better playing facility to the youth. He added that Government was suitably rewarding the sportspersons who had brought laurels to the State in various National and International competitions.
Virbhadra Singh said that State Government was ensuring equitable development of all areas of the State without any discrimination and it is being ensured that people get best health, education and road facility at their door steps. He added that during past one year, the State has witnessed development at accelerated pace to benefit every section of the society with various welfare programmes.
The Chief Minister announced to open Tehsil Welfare Office at Rait. He said that adequate funds would be released for the renovation work of GSSS Rait. He also announced developing play ground at Rait. He also announced to open Ayurvedic Dispensary at Dadhamb and starting science classes in GSSS Darini from next academic session. He announced grant of rupees two lakh to the H.P. Power Lifting Association for encouraging the spots activities.
Earlier, Chief Minister inaugurated Throat Bridge on Chambi khad constructed at a cost of Rs. 141.84 lakh.
Welcoming the Chief Minister, Kewal Singh Pathania, Chairman, H.P. Power Lifting Association and Vice Chairman, H.P. Forest Development Corporation said that 29 Power Lifting Associations participated in the Championship. He thanked the Chief Minister for giving priority to promote sports activities in the State adding that it was due to the efforts of Virbhadra Singh that Sports directorate was set up in the State.
Satya Kumar Sharma, Principal, GSSS Rait welcomed the Chief Minister. Suborto Datta, General Secretary, Indian Power Lifting Association presented the vote of thanks.
Peter Thoran, President, U.S.A. Power Lifting Association also spoke on the occasion and appreciated the efforts of the Association for developing good infrastructural facilities for power lifting in the State.
Sujan Singh Pathania, MPP and Agriculture Minister, Ajay Mahajan, MLA, Chander Kumar, former Minister, Ranjeet Bakshi and Bodh Raj, Ex MLAs, Balbir Tegta, Chairman, H.P. Board of School Education, Dharamshala and other were present on the occasion.