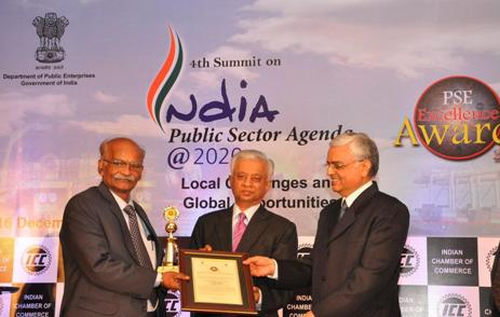 Public Sector SJVN Limited has been awarded the prestigious "PSE Excellence Award – 2013" in the category of CSR and Sustainability. The Award instituted by the Department of Public Enterprises, Govt. of India and Indian Chamber of Commerce, was received by R.P. Singh, Chairman & Managing Director, SJVN Limited at New Delhi. T.K.A. Nair, Advisor to Prime Minister of India, as Chief Guest of the function, conferred the award. O.P. Rawat, Secretary, DPE, was also present on this occasion.
The jury under the chairmanship of Dr. Nitish Sen Gupta, Chairman Board for Reconstruction of Public Sector Enterprises, Ministry of Heavy Industries, had selected the winners based on the dynamic growth of the organisation as a major parameter of evaluation. Contribution of SJVN in the field of CSR has been distinguished and recognised for the major activities in the areas of health, education, skill development, community infrastructure and organising culture and sports.
The Department of Public Enterprises has long been working to create a arena in which Public Sector Enterprises could excel and become an example for the world. In this backdrop Indian Chamber of Commerce had organised the Awards in association with the Department of Public Enterprises, Govt. of India, which is a part of the 4th Summit on India Public Sector Agenda @ 2020.
The Awards aim at recognising excellent initiatives taken by the Central Public Sector Enterprises in various aspects. The PSE Excellence Awards are conferred to the CPSEs every year. The objective of the award is to encourage innovative achievements and highlight exemplary models of pro-active services.