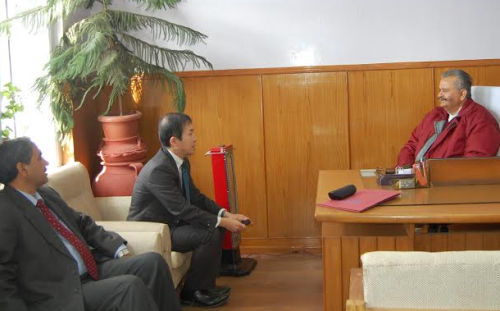 Shimla: Takesshi Shiihara, Portfolio Management Specialist, Energy Division, South Asia Department, Asian Development Bank today met Sujan Singh Pathania, Power and Agriculture Minister in his chamber and held discussion on the important issues related of hydro power projects and various agricultural schemes being funded by the Asian Development Bank in the state.
Power Minister apprised Shiihara that Asian Development Bank is currently funding US $ 800 million loan under Himachal Pradesh Clean Energy Development Investment Programme for the four Hydel Projects being constructed by H.P. Power Corporation in the state which includes, 111 MW Sawra Kuddu Hydro-electric Project, 195 MW Integrated Kashang Hydro Power Project, 100 MW Sainj Hydro Power Project besides civil package of 450 MW for Shongtong-Karcham Hydro-electric Project. Discussions were also held on Tranche-IV loan of US $ 315 Million for the 450 MW Shongtong-Karcham Hydro-electric Project. This loan is being funded under the investment programme to establish a sustainable Power sector in Himachal Pradesh in order to improve state's finance.
Pathania urged Shiihara to process Tranche-V loan of US $ 67.9 Million for 48 MW Surgani Sundla Hydro-electric Project being constructed in the downstream of Baira Suil Hydro-electric Project in Chamba district.
Takesshi Shiihara agreed in principal to finance this 48 MW Surgani Sundla Hydro-electric Project. He also assured that the Asian Development Bank would provide all possible assistance in the field of Hydel-generation and agriculture to the state.
D.K. Sharma, Managing Director, H.P. Power Corporation and P.C Negi Managing Director HPSEB were also present in the meeting.