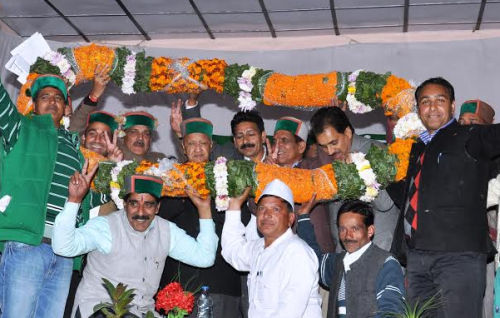 Chief Minister Virbhadra Singh today announced 50-bedded Community Health Centre (CHC) for Anni in Kullu district. He also announced Primary Health Centres (PHC) for Kungash and Lagoti in Anni Constituency.
Virbhadra Singh who was on one day tour to Anni constituency inaugurated the Rest House of Public Works Department at Kungash, constructed at a cost of Rs. 94 lakh. The foundation stone of this Rest House was laid by him on 17th June, 2006. This Rest House would facilitate the Government official's along-with the tourists visiting the area.
Addressing a public meeting at Kungash, Virbhadra Singh said that the people of different areas had raised the demands to upgrade educational institutes and dispensaries. He assured that the Government would consider their demand sympathetically as providing best facilities to the people of rural areas was the priority of the State Government.
Later, the Chief Minister inaugurated Rishta-Mishta drinking water supply scheme at Karana which has been completed at a cost of Rs. 147.57 lakh. The Scheme would benefit more than 2700 people of 23 villages of two gram panchayats of the area. He announced to construct Primary School building at Bye and construction of road from Kandugad to Jabu. He also directed the PWD authorities for survey of construction of Shamshar-Paneu link road.
Chief Minister said that the overall development of the State with special focus on hard areas like Outer Seeraj was the priority of the State Government. He accused the previous BJP Government for ignoring the interests of the State by selling hundreds bighas of land to non-Himachalis by flouting the norms.
Earlier, Virbhadra Singh was given rousing reception at various places from Luhri to Kungash on his first visit to the area after becoming the Chief Minister of the State for the sixth time.
Earlier in the morning, Virbhadra Singh visited the under construction building of GSSS (Girls), Rohru and directed the authorities to construct additional accommodation for Principal and staff members along-with additional class rooms. He also inspected the site of vegetable market at Mehandli near Rohru.
Chief Parliamentary Secretary Nand Lal, local MLA Khoob Ram, former Deputy Speaker Ishwar Dass, Kullu District Congress Committee President Budhi Singh Thakur, Chairman, Zila Parishad Harish Chand Sharma, Chairman, APMC Kullu & Lahaul-Spiti Upender Kant Mishra, Member Zila Parishad Chand Kumari, Deputy Commissioner Rakesh Kanwar, Member BoD Milkfed Kulwant Kashyap and prominent persons were also present on the occasion.