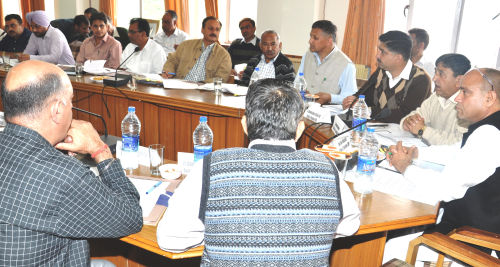 A review meeting of Excise and Taxation Department was organised here today under the Chairmanship of Excise and Taxation Minister Prakash Choudhary.
Expressing happiness over the 12 percent increase in the income of department till 30th September, 2013 as compared the previous year, he directed the authorities to take more effective steps to further enhance the income generation and achieve the set targets.
Choudhary directed that rate list should be displayed outside the liquor shops along-with telephone number of concerned Excise officer with a view to ensure that liquor was not sold above the fixed rates.
The Minister asked to maintain cordial relations with the traders and take necessary steps to keep strict vigil on tax evasion and illegal trading besides creating awareness amongst the traders about new procedures like e-declaration, e-payment and e-return.
He also directed to submit the proposal to the Government for setting up Excise and Taxation force in the State to stop attacks on departmental officers. Taking serious note of the incident of attack on departmental officers in Kumarhatti recently, he assured legal action against the offenders so that such kind of incident was not repeated in the future.