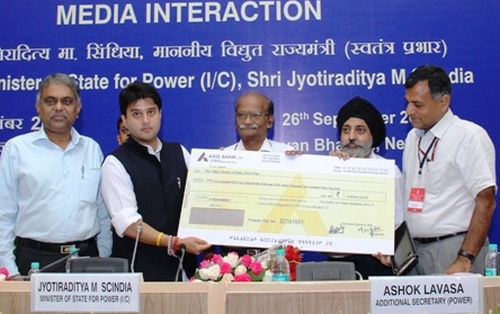 On account of its annual financial performance for the year 2012-13 public sector SJVN Limited has paid a dividend of Rs. 255.99 crore to the Govt. of India holding 64.5% equity in the Company. SJVN had declared a total dividend of Rs. 397.12 crore for FY 2012-13 which is 2.1% higher than the previous year dividend of Rs. 388.84 crore. The dividend works out at 96 paisa per share of Rs. 10/- each.
The dividend cheque was handed over to the Union Minister of State for Power (Independent Charge) Jyotiraditya M. Scindia by R.P. Singh, CMD, SJVN Limited on 26th September, 2013. The cheque was presented in the presence of, Pradeep Kumar Sinha, Secretary (Power) and senior officials of the Ministry of Power. On this occasion A.S. Bindra, Director (Finance) and senior officers of SJVN were also present.
While handing over the cheque to the Union Minister of Power, R.P. Singh informed Nathpa Jhakri Hydro Power Station of SJVN is completing 10 years of electricity generation this year and the Company had earned a net profit of Rs. 1052.34 crore during the financial year 2012-13.