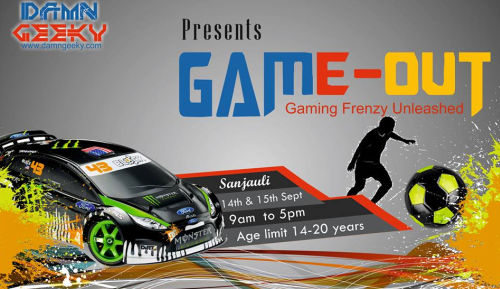 Organized by DamnGeeky – GameOut with tagline "Gaming Frenzy Unleashed" is first every video game competition in Shimla. Scheduled to take place on the 14 and 15th September 2013 at the Sarab Complex, (Old CCD) Sanjauli, Shimla, the competition is split in two separate game genres.
The competition will feature two games – FIFA 13 and Dirt 3, which are very popular amidst gamers (both amateur as well as professional). These games have been selected the basis of a poll conducted for young gamers on social network Facebook.
The city of Shimla is going to be rocked by the juggernaut of gamers on scheduled dates when the young gamers from various schools of the city will compete with each other on the most competitive gaming platform ever provided in the Shimla.
Organized by DamnGeeky, a venture of FlexiNet Solutions, GameOut is a free entry format based event for children in the age group of 14 to 20 years. The Event is powered by Arena Animation Shimla.
Gameout will span across two days. On the first day preliminary rounds will take place and on the consecutive day quarterfinals, semifinals, and finals will be held.
The winners in both the games will get gift hampers from sponsors and winners of FIFA 13 and Dirt 3 will receive a one off custom made trophy that will be unique in itself. There will be a separate trophy for the best skilled gamer of the event.
DamnGeeky is a part of the Shimla based FlexiNetSolutions, which comprises of other web portals like HomeCrux, PlanetCustodian, and AtCrux, which are web magazines on interesting stuff that focus on futuristic living, green living and wearable technologies which are popular with the intellectual masses.