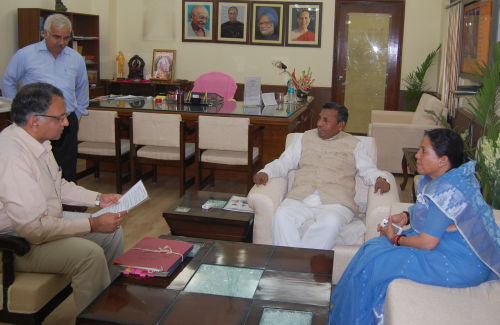 Member Parliament Pratibha Singh called on K.H. Muniyappa, Union Minister of Micro, Small & Medium Enterprises at Udyog Bhawan, New Delhi and requested him to strengthen the KVIC/Coir board show rooms in Mandi town of the State.
She asked for more varieties in these show rooms keeping in view of the increasing local demand and said that these two show rooms had done brisk business in the area in recent times and have benefitted to the general consumers particularly the business and rich class who seeks quality products at reasonable rates.
Singh said that demand of these show room products is likely to increase manifold in coming years with the opening of new education institutions/industrial establishments in the area and flow of tourists. She also demanded enhancement in training programmes at Multi Disciplinary Training Centre Kanaid to train local youth under various vocational programmes for skill development so as to enhance their chance of self employment.
Mandi MP appreciated the role being played by NSIC training centre at Jubbal in Shimla district and told that children from far flung and interior areas have largely benefitted for the centre. She requested introduction of the new courses in the training centre to increase the its scope.
She requested the Minister to issue necessary instructions for renovation of KVIC show room at Mall Road Shimla comparable to other show rooms for attracting international and quality customers.
She also requested the Union Minister to formally inaugurate the divisional office of KVIC at Dharamshala. She also demanded to strengthen the office by granting more financial and administrative powers to the office.