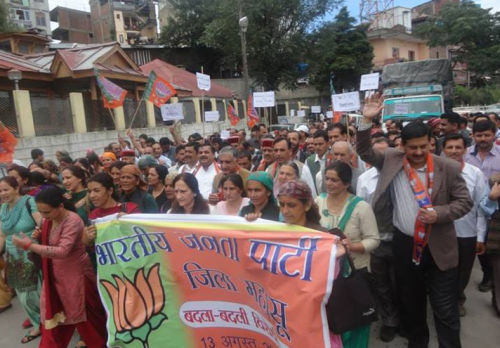 As part of BJP's weeklong protest across Himachal Pradesh "Badla-Badli Virodh Saptah", which was carried out to oppose alleged vendetta politics in State by ruling Congress party, BJP's organizational Mahsu district leaders and party workers protested in Theog. Hundreds of agitated party workers along with leaders Rakesh Verma, Narinder Bragta, Ganesh Dutt, Shashi Dutt Sharma, Sandeepni Bhardwaj, Gyan Chandel, Aminchand Vermaand, Yaman Sirkeck and Indu Verma took part in the rally in Theog city and raised slogan against present government.
BJP leaders blamed state government for targeting BJP workers and busy in transferring employees time and again on political considerations. BJP leaders also accused Virbhadra Singh led government for implicating BJP senior leaders in false cases.
BJP accused Congress led State and Union Govt for failing on all fronts and blamed wrong polices of Union Govt for the higher prices of essential commodities. BJP leaders said that corruption has plagued the UPA government and its ministers were caught in many big scams and were more than dozen were forced to resign form the post.
BJP would observe this "Badla-Badli Virodh Saptah" till 19th of August and would hold protest rally in all 12 districts of the state. BJP has also planned a massive protest on August 23, outside the state assembly, where most of its state leaders and office bearer will be present.