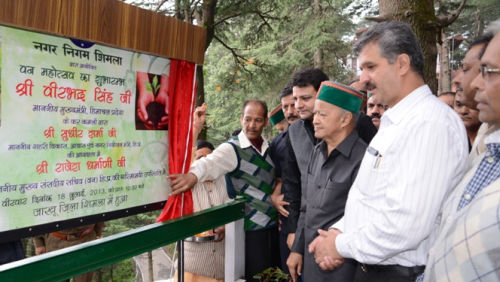 Municipal Corporation (MC) Shimla today organized 'Van Mahotsav', where Chief Minister Virbhadra Singh planted a sapling of 'Rhododendron Arbrateum' at Jakhu in Shimla.
Virbhadra Singh said that the whole Himachal Pradesh and its Capital Shimla was blessed with rich green cover and it was the moral duty and responsibility of all to not only maintain it but further enhance it by planting trees. He said that forests maintain ecology and provided us fresh air and everybody understands their importance. He said that pressure on forests was increasing day- by-day especially due to increase in urban areas.
Chief Minister said that trees had their own life span and new saplings should be planted nearby old Deodar trees. He said that besides Deodar other species of trees especially fruit bearing trees such as Maple, Chesnutt, Peach and fruit bearing shrubs and creapers should be planted in Shimla town especially in Jakhu forest area to keep monkeys away from populated areas like The Mall, Lower Bazar, Ram Bazar etc. He said that MC should start plantation drive in other parts of Shimla town also and other varieties apart from 'Lal Burans' of Rhododendron arbratum should be imported for plantation.
Virbhadra Singh said that MC Shimla was one of the old Urban Civic Bodies of the Country and its office bearers and functionaries should strive hard to revive the old beauty and glory of Shimla. He said that MC Shimla was known to have rich nurseries in old time and MC should revive it and raise new nurseries of various varieties of plants and flowers to be sold to the common people. Apart from raising greenery it would generate the income of the Corporation, he added.
Chief Minister said that the Municipal Corporation should plant flowers in different parts of the Shimla town which would beautify the town and help in attracting more tourists to the queen of hills. He said that the Corporation was an important institution and the Government would consider their demand of giving more forest area to them alongwith other rights.
Mayor Sanjay Chauhan, while welcoming the Chief Minister said that 842 hectare area of Shimla Urban forest was given to MC Shimla for maintenance in 2011 by the previous BJP Government. He said that before 2006, the Shimla Urban forest area of 1900 hectare was with MC so more forest area should be given to them. He said that though the 842 hectare area was given by BJP Government and its assets and liabilities were transferred but not the rights.
Chauhan also apprised Chief Minister about the paucity of funds in MC and urged CM to provide adequate funds for the preservation of forest under its periphery. He said that income of about six crore was generated from forest produce which went to forests department and MC was not given its share.
Urban Development and Housing Minister Sudhir Sharma also planted a sapling of 'Rhododendron arbratum' (Lal Burans), Chief Parliamentary Secretary, (Forest) Rajesh Dharmani planted 'Chinar', Chief Parliamentary Secretary Inder Dutt Lakhanpal planted 'Baan' tree (Quercus incanna).
Deputy Mayor Tikander Singh Panwar, Councillors of MC, former Mayor Sohan Lal, former Deputy Mayor and Member of Executive Council, HPU Harish Janartha, PCCF Wildlife A.K. Gulati, DC Shimla Dinesh Malhotra, Commissioner MC Shimla Amarjeet Singh, Conservator Forests K.S. Thakur, DFO MC Inder Kumar other officers, prominent persons and school children planted more than 350 plants of various varieties such as Cedrus Devdara (Deodar), Horse Chestnut, Bhoj Patra, Abbispindrow (Tosh), Silber Oak, Bottle Brus, Har-shingar etc. on the occasion.