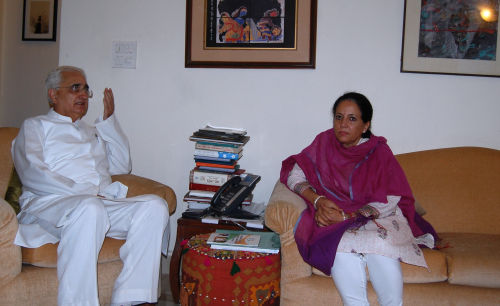 Newly elected Member of Parliament Pratibha Singh today called on Union External Affairs minister Salman Khurshid and suggested to start Kailash Mansarovar Yatra through Himachal Pradesh.
She apprised him that Himachal route would be more convenient and dependable since the entire route from Himachal to Tibet was rocky and stable from avalanches point of view in comparison to Uttrakhand State, from where present Yatra was routed by the Ministry of External Affairs.
Pratibha Singh said that various Jathas of the Yatra were cancelled every year due to inclement weather in Uttrakhand and danger of avalanches and natural calamities always persisted. She suggested that the alternate route through Himachal to the Kailash Mansarovar would be safer. She told that en-route facilities for the pilgrims like medicines shops, medical centres, rescue posts, rest places etc. in Himachal route were far better.
She also demanded opening of old trade old trade route through Rampur to Tibet, which was trade route of traditional dried fruits, handicrafts, handloom and other local products adding that it would generate massive economic activities in the region.
Pratibha Singh also demanded to increase the Haj quota of the State to 150 persons from present quota of 100 persons annually so that all the aspirants for the holy Haj Yatra could be accommodated conveniently. She thanked the Union Government for accommodating all the 133 Haj pilgrims to Haj Yatra during this year. She also urged for special air services from Chandigarh to Mecca during the Haj Yatra to benefit the Haj pilgrims from Himachal, Punjab, Haryana, Uttrakhand and Union Territory Chandigarh.