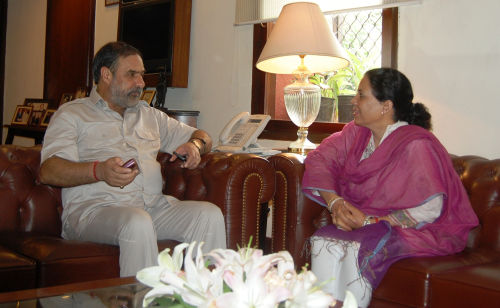 Himachal Pradesh reiterated its demand to extend the industrial package in the state till 2020, keeping in view of the industrial backwardness of the state. Mandi MP Pratibha Singh raised this issue with Union Commerce Minister Anand Sharma during her meeting with him in New Delhi.
Pratibha Singh also requested him to provide incentives of capital investment subsidy on plant and machinery, 100 percent outright excise duty exemption for period of ten years from the date of commencement of production for industrial units and 100 percent income tax exemption for period of five year and thereafter 30/25 percent exemption for the next five years in case of companies /other than companies respectively to all the new industrial units in the state to maintain the pace of the industrialization in the state .
Pratibha Singh demanded to sanction of 100 crore rupees projects out of 20 percent central component of ASIDE scheme. She informed that state level export promotion committee has already approved these eight projects for coverage under 20 percent central component of ASIDE scheme during the 12th five year plan.
She informed that these projects were also discussed in meeting of the ministry held in February 2013 and it was agreed in principal that Govt of India would consider to sanction these projects from 20 percent central component of ASIDE scheme but so far the matter has not made any progress and requested the union minister to grant time bound sanction to these project for strengthening the industrial infrastructure in the state.
Mandi MP said that various projects like upgradation of power supply in EPIP Phase 1, EPIP Phase 2, ware housing projects for exporting units in Baddi – Barotiwala-Nalagarh areas, Composite Testing Lab for Pharma Products at export cluster Baddi, setting up container parking facility for exporting units in Baddi- Barotiwala area, setting up common effluent treatment pant for exporting units at industrial area Kala Amb, development of electrical infrastructure at industrial area Kala Amb and product development centre for auto sector at export cluster Baddi will be commissioned with central assistance.
Pratibha Singh requested the union minister to release the Rs 70 crore under central transport subsidy scheme and Rs 55 crore under central capital investment subsidy to the state for the first two quarters of the year 2023-2014.