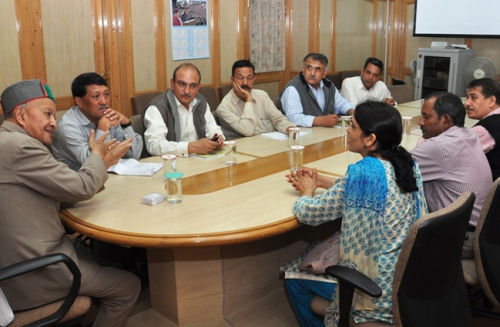 Himachal Pradesh Chief Minister Virbhadra Singh holds a meeting with Central Team of Disaster Management led by Joint Secretary Ministry of Home Affairs Veena Kumari Meena, and sought maximum possible relief from Government of India to mitigate the huge losses to both public and private property.
Chief Minister apprised Central Team that Himachal Pradesh had suffered a loss of more than Rs. 2522 crores due to recent incessant rains, cloudbursts and landslides. Singh said that the State as a whole experienced heavy rain fall which was 576 per cent to 1358 per cent above the normal for this period. He said that districts Kinnaur and Sirmour were worst affected as Kinnaur also received untimely snow during this period at several places. He told that 35 persons lost their lives due to heavy rains in the State out of which 23 people died in Kinnaur district alone. He said that Kinnaur district had suffered loss of over Rs. 1200 crore.
Chief Minister said that as Kinnaur district was situated at the back of Kedarnath hills that it was the reason it suffered the maximum brunt. He said that district administration, State Government Departments and Border Road Organization (BRO) worked at war footing to bring normalcy and restore water, electricity and roads etc. at earliest. He said that huge losses were reported in agriculture, horticulture, roads and other sectors which would take time and requires huge funds for its restoration. He said that only temporary and immediate relief and restoration work was done and liberal central assistance was required to mitigate the losses.
Later, Central Team also met Chief Secretary Sudripta Roy and held discussions regarding recent disaster. Chief Secretary told that early monsoon rains were so sudden and heavy that caused maximum damage to an extent that normal life was completely thrown out of gear at several places. He said that even Chief Minister Shri Virbhadra Singh was stranded in Sangla in Kinnaur for three days alongwith about 1700 tourists at various parts of the district who were evacuated with untiring efforts of State Government and Air Force. He complemented the efforts and speedy work done by both State and BRO officials.
Central Team headed by Joint Secretary Ministry of Home Affairs Veena Kumari Meena, Joint Director Finance commission Division Deena Nath, Economic Officer, State Plan Division, Planning Commission A.K. Sinah and Regional Officer, Ministry of Road Transport Highways Aditya Prakash visited Pooh, Khab, Roppa Valley, Sangla, Morang, Kasang, Sudharang and Pangi areas in and around rain affected areas in Kinnar district.
While a separate team comprising OSD Horticulture Department of Agriculture L. Shivarama Reddy and Under Secretary Ministry of Rural Development Pradeep Kumar Singh visited Sirmour and Mandi rain affected areas to take stock of the damage.
Meena told that indeed the tribal district Kinnaur has suffered and affected badly but it failed to dampen the sprit of local people. She also lauded the efforts of the State Government in bringing normalcy. She assured that the team would submit their report soon.
Advisor to Chief Minister T.G. Negi, Additional Chief Secretary (IPH & Horticulture) Vineet Chaudhary, Principal Secretary to Chief Minister V.C. Pharka, Principal Secretary-cum-Finance Commissioner Revenue Tarun Shridhar, Principal Secretary PWD Narinder Chauhan, Principal Secretary MPP & Power S.K.B.S. Negi, Secretary Finance Maneesh Garg, Special Secretary Revenue & Disaster Management Dr. Amandeep Garg, E-n-C IPH R.K. Sharma, Director Agriculture, J.S. Rana, Chief Engineer PWD D.K. Nayar and other senior officers were present on the occasion.