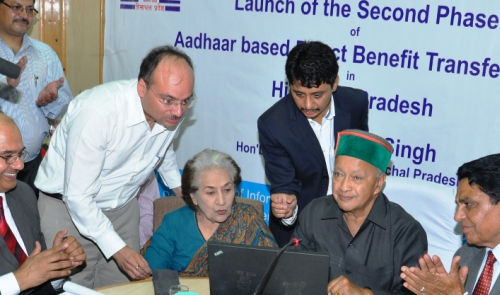 Chief Minister Virbhadra Singh launched second phase of AADHAR based Direct Benefit Transfer (DBT) Scheme for the people availing benefits of different schemes of the Government.
Chief Minister said that second phase had been started in six districts viz. Hamirpur, Bilaspur, Una, Solan, Kullu and Mandi, adding that a sum of Rs. 8.25 crore would be transferred in bank accounts of 9189 people under various government benefit schemes. He said that the scheme would benefit the people belonging to SCs, STs, OBCs, minorities for availing benefits of scholarship schemes, beneficiaries under Indira Gandhi Matritav Sahyog Yojna, National Social Assistance Programme, Old Age Pensions and other pension schemes, Dr. Ambedkar and Swami Vivekanand Scholarship Schemes.
Virbhadra Singh congratulated all the concerned departments and Unique Identification Authority of India (UIDAI) for implementing the scheme. He said that 83 percent population of the State had been issued AADHAR Cards and 64, 45,602 persons had been enrolled for AADHAR out of total population of 68,64,602 adding that 57,23,720 persons had been provided AADHAR cards. He said that 134 centres had been opened for making AADHAR cards and hoped that within next 2-3 months all the people of the State would be issued AADHAR numbers and the left out six districts would also be brought under the ambit of DBT scheme.
Chief Minister said that the first phase of DBT scheme was introduced in January, 2013 and so far a sum of Rs. 2.16 crore had been deposited in the bank accounts of 8452 beneficiaries under different schemes.
He said that at present 2,92,921 persons were being provided social security pension and a provision of Rs. 172 crore had been made for the same in this fiscal. He said that under National Social Assistance Programme, the Rural Development Ministry of Government of India had decided to transfer the direct cash in the bank accounts of the beneficiaries under this second phase in six districts. As many as 44,780 pensioners of six districts brought under DBT would be benefited under National Pension Scheme besides the pension based on AADHAR seeded cards would be transferred to bank accounts of 6254 pensioners.
The State Government was implementing various schemes for the welfare of weaker sections and allocation of budget for various welfare schemes had been increased during the year 2013-14 to give relief to every section of the society. He said that the funds under various schemes would be transferred to the accounts linked with AADHAR cards of beneficiaries through DBT.
Chief Minister asked the Information Technology and other associated departments to make the AADHAR cards of all the people of the State by September, 2013. He said that possibilities would be explored to provide services as Public Distribution System, Revenue Records, MNREGA, Pensions etc. besides other additional services through AADHAR cards to the people.
P.C. Dhiman, Principal Secretary, Information Technology welcomed the Chief Minister and detailed about second phase of DBT scheme. He said that 94 percent people had been enrolled for making AADHAR cards in the State and Himachal Pradesh was second in the country after Goa for enrolment of AADHAR cards. He said that to resolve various issues and problems relating to AADHAR cards one can contact on phone number 0177-2626709.
Maneesh Garg, Director Information Technology, Nandita Gupta, Director, Scheduled Castes, Scheduled Tribes and Minorities Affairs, Madhu Bala Sharma, Director, Women and Child Welfare, Dinkar Burathoki, Director, Higher Education also detailed about different schemes of their departments brought under DBT.
Vidya Stokes, Irrigation & Public Health and Information Technology Minister, Dr. (Col.) Dhani Ram Shandil, Social Justice and Empowerment Minister, Jagat Singh Negi, Deputy Speaker, H.P. Vidhan Sabha, Keshani Anand Arora, Deputy Director General, UIDAI and senior officers of the State Government were present on the occasion.