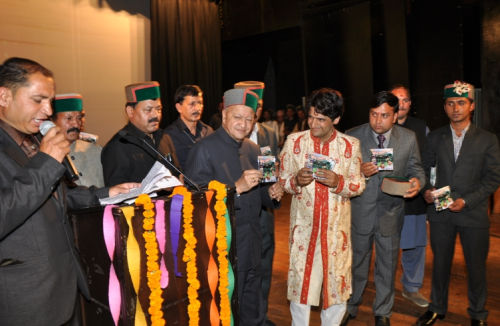 Chief Minister Virbhadra Singh while presiding over the function held in his honour and Lifetime Achievement at Gaiety Theatre, Shimla today said that the State Government, apart from ensuring overall development of the State was also committed for preservation of its rich cultural heritage.
The function was organised by KAPSON Music and Bhavik Audio Video Production, Rampur Bushahr. Virbhadra Singh said that we should inculcate moral values amongst the coming generation and make them aware of our rich culture so that it could lead to strengthen the bonds of fraternity in times to come. He said that in today's world, where moral values and culture was eroding fast, it become our moral duty to instil these values amongst the youth.
Chief Minister said that the State Government was committed to provide quality education and had moved a step further by making it sure that every child gets good education and foreseeing this, the Government had provided free travelling facility to all the students of Government schools in HRTC buses. Apart from this, Skill Development Allowance of Rs. 1000 per month was being given to unemployed eligible youth and Rs. 1500 per month to persons with disabilities. He said that the State Government had enhanced the social security pension from Rs. 450 to Rs. 500 per month and Rs. 1000 to senior citizens above 80 years.
He said that the State Government had taken many important decisions to ensure welfare of all sections of the society during its short tenure of five months. Virbhadra Singh complimented the organizers for their endeavour to host this colourful cultural programme reflecting Himachali folk alongwith the folklores of Uttrakhand and Nepal.
Chief Minister also released a video DVD titled 'Bushahr Lok-Gatha- Raja Sahiba Ree' produced by Khosh K.R Mehta.
Dr. Kapil Sharma, Chairman, KAPSON Music and Bhavik Audio Video Production, Rampur Bushahr regaled the audience by his performance on the occasion.
Former MP and Vice Chairperson, State Red Cross, Pratibha Singh, Chairman, H.P. State Cooperative Bank Harsh Mahajan, Vice Chairman, HRTC Kewal Singh Pathania, General Secretary, Shimla Rural Congress Committee Kehar Singh Khachi, President, DCC Solan Rahul Thakur, Director of BoD, SIDC Parmod Sharma, Deputy Commissioner Dinesh Malhotra and Director, Language, Art and Culture D.K Gupta were present on the occasion among other.