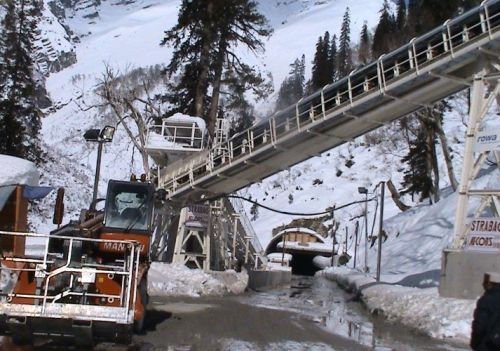 Chief Minister Virbhadra Singh promised to ensure all weather connectivity to the people of Lahaul and assured to complete the mega Rohtang tunnel project as soon as possible.
Chief Minister, during his Lahaul-Spiti tour, said that out of total 8.9 kilometers stretch of Rohtang tunnel under construction, 3.5 kilometers had been completed so far. He said that the State Government was endeavouring to connect tribal and hard areas with tunnels, which would not only reduce the distances but would also boost tourism activities in these areas. He said that the matter regarding construction of tunnels viz. Tissa to Killar below Chaini Pass, Karsehar to Telang below Bhubujot etc. would be taken up with multi- lateral funding agencies. He said that State Government would ensure that the local youth should get adequate employment in the hydel projects.
Chief Minister claimed that the tribal people had always occupied a special place in the heart of Congress leadership and constraints of funds would not be a hurdle for carrying out developmental activities in these areas. He said that a provision of Rs. 369 crore had been made for the year 2013-14 under Tribal Area Sub Plan to accelerate the pace of development in tribal areas of the State, which is 11 percent more than the last financial year. A provision of Rs. 764 crore had been made under the Tribal Area Sub Plan during 2013-14 which includes Plan and Non Plan allocation, said he.
Chief Minister announced up-gradation of Chimret Middle School to High School and added that sufficient funds would be provided for renovation of Senior Secondary School, Udaipur. He said that the vacant posts of teachers in tribal areas would be filled in on priority.
MLA Ravi Thakur welcomed the Chief Minister and detailed out developmental activities being carried out in the area. He thanked the Chief Minister for providing sufficient funds for the development of the area. Chairman, Block Congress Committee Dalip Singh proposed vote of thanks.
Advisor to Chief Minister T.G Negi, Principal Secretary to Chief Minister V.C Pharka, Deputy Commissioner, Lahaul-Spiti Bir Singh Thakur, Superintendent of Police, Sunil Kumar, Former MLA Raghuvir Thakur, Member, Tribal Advisory Committee Pyare Lal Sharma and other senior officers were also present on the occasion.