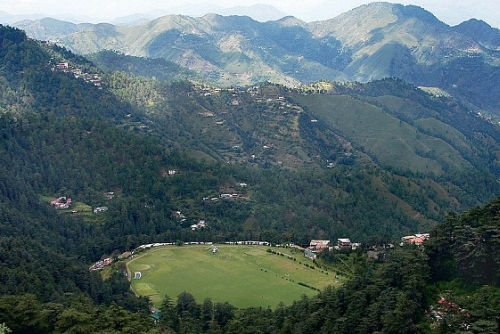 Himachal Pradesh government has decided to withdraw arbitration proceedings against the Indian Army over the possession of the Annandale ground. After this decision bitter battle of possession of Annandale ground has come to an end as this ground would remain under the control of Indian army.
A decision in this regard was taken at a meeting between Chief Minister Virbhadra Singh and General Officer Commanding-in-Chief (Western Command) Lt. Gen. Sanjiv Chachra in Shimla, a statement by the Western Command said here.
It said that during the meeting the army commander stressed upon the importance of Annandale ground for army operations along the northern borders as also for carrying out disaster relief operations.
The statement of the Western Command suggested that the chief minister assured Govt will issue necessary directions to withdraw the ongoing arbitration proceedings. The chief minister said status quo would be maintained in respect of the ground.
The 121-bigha picturesque Annandale ground has been a flashpoint of confrontation between the state and the army as the Army does not allow the ground for civilian use. Earlier previous Govt wanted to construct cricket stadium and later announced to make multi specialty stadium here, but Army refused to give ground to Govt even after the expiration of lease.
After that the previous state government headed by Prem Kumar Dhumal moved against the army in the court of divisional commissioner in Shimla for taking its possession. However this decision was criticised by many political leaders like Senior BJP leader Shanta Kumar, Congress veteran Virbhadra Singh and many other Congress leaders and had eventually become political vendetta between Congress and Dhumal section of state BJP. Even hundreds of people of Shimla joined the protest and criticised Govt move to transform Annandale Ground into a cricket stadium.