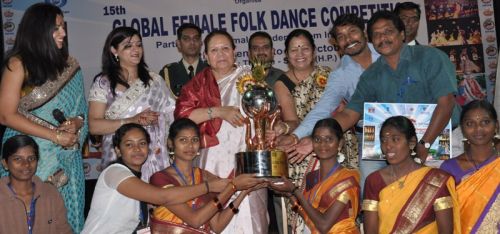 Governor Urmila Singh stressed the need for preservation of folk arts and said that it would not only enrich the culture of the State but also keep the tradition alive among the masses. She was speaking on the closing ceremony of the 15th Global Women Folk Dance Competition here today.
Urmila Singh said that the event had afforded an opportunity to present different dances of the country on a single platform and depicted the unity in diversity and added that such events paves the way to bring the whole country into a mainstream. She said that such events not only provide forum to the artists but also infuse confidence amongst them.
Governor congratulated the Charu Castle Foundation for organising this cultural event in which tourists from different parts of the country as well as abroad had got opportunity to see the rich cultural heritage of the Country. She said that folk music and dance was the integral part of rich cultural heritage of Himachal Pradesh.
Earlier, Governor distributed prizes to the winning teams. First prize comprising of Rs. 25,000, Trophy and citation was awarded to Chennai Team. Sri Lanka and Bangladesh stood second to whom Rs. 7,000 each, trophy and citations were presented. Kapoor V. Bhan, Chairman, Charu Castle Foundation welcomed the Governor and detailed out the activities of the Foundation.