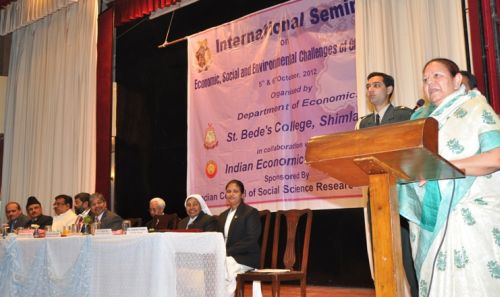 Governor Urmila Singh inaugurated International Seminar on 'Economic, Social and Environmental Challenges of Globalization' organized by St. Bede's College, Shimla, in collaboration with Indian Economic Association at Shimla today.
Speaking on the occasion, Urmila Singh said that there was a great challenge to conserve and protect the environmental wealth in view of materialistic attitude of the humankind in this world. She said that we should think how to carry out the developmental works without making any harm to environment. Globalization has come with so many social and economic changes in this world, she added.
Governor hoped that the deliberations in this seminar would focus on formulation of sound policies to promote a free, equitable and productive global environment. She said that the discussions in the Seminar will seek provide some theoretical and empirical answers to the question of whether globalization was beneficial for employment, poverty alleviation and income redistribution especially in the developing countries, she added.
Earlier, Dr. Beena John, Principal, St. Bede's College Shimla welcomed the Governor. Prof. Balchander Mungokar, M.P. Rajya Sabha and Chairman of Indian Economic Association, Prof. ADN Bajpai, Vice Chancellor, H.P. University, Dr. Tapan Kumar, Vice Chancellor Bhagalpur University, Anil Thakur, Secretary, IEA, Dr. Alok Advisor Seminar, Sister Lawrence, Manager, St. Bedes College, Dinkar Burathoki, Director, Education, Dr. Anupama Tandan, Convener Seminar and delegates from various Universities and other organizations from in and outside the country were present among others on this inaugural session of the seminar