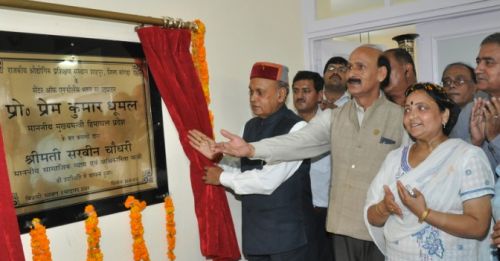 Chief Minister Prem Kumar Dhumal announced to upgrade Shahpur Hospital to Civil Hospital to cater to the advanced health facilities to the people in the area. He announced it while addressing a public meeting at Shahpur in district Kangra, after he dedicated the building of 'Centre of Excellence' of ITI, Shahpur, constructed at a cost of Rs. 1.10 crore to the students of the Institute, motorable bridge over Gaj Khad constructed at a cost of Rs. 1.00 crore to the people of Dhar Kandi area, laid foundation stone of Flow Irrigation Scheme for Bhanala-Hara area estimated to cost Rs. 2.24 crore and to irrigate about 4,200 kanal of farm land, Water Supply Scheme Boh-Darini, estimated to cost Rs. 2.27 crore and benefit 6,600 population of the area, bridge over Chambi khad, estimated to cost Rs. 1.14 crore and performed 'Bhoomi Poojan' of Chari-Ghera Road project estimated to cost Rs. 4.15 crore, today.
Earlier, Chief Minister also addressed an public meeting at Ghera, after he dedicated newly constructed motorable bridge and counted developmental achievements of the State made during past four and half a year. Prof. Dhumal said that economic empowerment of people had resulted into increase in the per capital income of the people which had reached Rs. 73,600 now as compared to Rs. 43,000 in year 2007-08. He said that daily wages, social security pension, remunerations of different categories of workers and even representatives of panchayati raj institution were benefitted with increased higher financial benefits. He said that vocational education was on priority agenda of the Government and lauded the achievement of ITI Shahpur where students were taking education in three shifts and had best in-campus placement facilities as a number of companies had recruited qualified students from the Institute. He said that State Government had decided to open one industrial training institute in each of the assembly segments of the State and polytechnics in every district in a phased manner.
Chief Minister also criticized opposition leaders for raising false propaganda amongst the masses but failed to achieve their ulterior motives since people of Himachal Pradesh were wise enough to gather factual details about all such schemes of the State Government which had touched every section of the society and ignored the false propaganda of opposition.
Prof. Dhumal announced Rs. five lakh for Press Club Shahpur and funds for various Mahila Mandals in the area. He announced District-Level Status to Shahpur Dussehra Mela. Chief Minister was accorded a rousing reception by the people en-route to different places he visited to dedicate developmental projects and for laying foundation stones.
Prof. Dhumal also listened to the public grievances of the people at all the places he visited and directed concerned authorities to provide relief to the aggrieved on priority. Ravinder Singh Ravi, Irrigation and Public Health Minister, said that record developmental milestones had been established under the visionary leadership of Dhumal during past four and half a year. He congratulated him for making State rank at number one in implementation of 20-Point Programme consecutively for past three years. He said that compared to Rs. 676 crore spent during 2006-07 on various IPH activities Rs. 2,000 crore were being spent during current financial year. He said that 90 percent of rural populations were getting 70 litres of safe drinking water per person per day. He said that Rs.387 crore Shah Nehar and Rs. 100 crore Siddhatha Medium Irrigation Scheme was nearing completion and would irrigate 15,200 hectares and 3150 hectares of land in the district respectively. He said that Rs.205 crore Phinna Singh Irrigation Canal Project would also irrigate additional 4,025 hectares of farm land. He said that Rs. 35.50 crore were being spent in Shahpur assembly segment on various IPH activities during current financial year and 261 handpumps were bored.
Sarveen Chaudhary, Social Justice and Empowerment Minister welcomed the Chief Minister and thanked him for his one day visit to her home segment to dedicate and lay foundation stones of developmental milestones. She thanked Chief Minister for opening Electricity Division in Shahpur, counted bridges, roads constructed and mettled, irrigation and drinking water supply schemes, tube wells bored, health and veterinary institutions opened, and providing liberal finances during past four and a half years. She said that 33 percent budget was being spent on social welfare activities during current financial year. She urged Chief Minister to open a separate Civil Sub Division for Shahpur, and provide funds for Mahila Mandals in the segment. Sanjay Chaudhary, MLA, Kangra, Dr. Harbans Rana, former Minister, senior officers and prominent people of the area were present on the occasion.