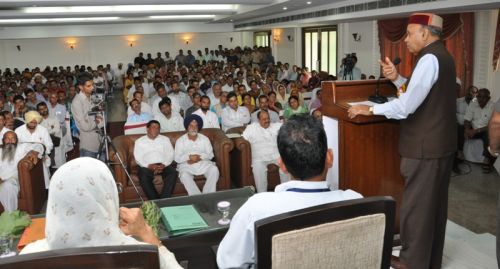 In the Seminar on Environmental Advocacy & Sustainable Development organised by Rural Development Department and Kasturba Sewa Samiti at Baddi in District Solan today, Chief Minister Prem Kumar Dhumal said that people's participation would accelerate the pace of environment protection and pollution control activities in the State. He appealed the people to supplement the efforts of the State Government in this direction by making individual efforts for protecting the environment.
Chief Minister said that Global warming had disturbed the weather cycle resulting in deficient rain fall and added that serious efforts were needed to protect the environment. He said that the State Government had made concerted efforts to preserve the fragile ecology of the State and added that development and environment protection activities should go hand in hand in perfect harmony. He said that developmental activities should be environment friendly.
Prof. Dhumal said that Himachal Pradesh had emerged as role model of development among all the States of the Country. He said that the State had been lauded at National Level for its improved development indicators. He said that average income per person had increased in the State there by bringing in prosperity and higher standard of living.
Chief Minister said that vehicles and bad condition of roads were also responsible for pollution. He said that the National Highway Authority had not provided adequate funds for maintenance of National Highways where vehicular traffic was more. He said that Rs. 150 Crore were due from National Highway authority whereas it had allocated an amount of Rs. 5 crore only. He said that the State Government had accorded priority to roads and was providing funds for maintenance of roads in the State to facilitate people.
Jai Ram Thakur, Rural Development and Panchayati Raj Minister said that representatives of PRIs were being imparted training regarding various welfare programmes and schemes and added that Rs. 4.40 crore were spent on training programmes so far. He said that awareness about environment was also part of these training programmes so that they could contribute towards environment at Panchayat level. He said that the State was all set to scale new heights in implementation of total sanitation campaign.
Vinod Chandel, MLA said that people of the Baddi-Barotiwala- Nalagarh area were benefited by rapid industrialization during last four and half years. Sanjay Ganjoo, CEO Dainik Bhaskar Foundation lauded the efforts of the State Government towards protecting the environment. Devinder Sharma, Chairman, Kasturba Sewa Samiti also spoke on the occasion. Arun Rawat, President, BBNIA said that the State Government had made efforts to carry out rapid development in the Baddi-Barotiwala- Nalagarh area. Dr. Rajeev Bandal, MLA and BJP General Secretary, Shri Chander Mohan Thakur, Chairman H.P. State Cooperative Bank, Shri Laj Kishore Sharma, Chairman Jogindra Bank, Smt. Meera Mohanty, Deputy Commissioner, Solan, Shri Gurudev Sharma, S.P. Baddi, Shri Hans Raj Sharma, CEO BBNDA were prominent among others present on the occasion.