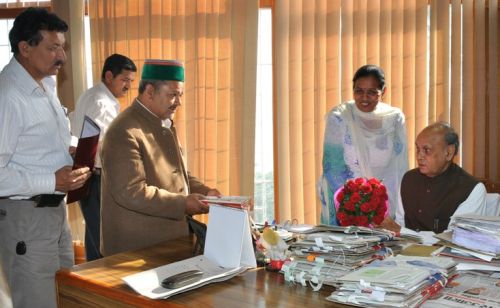 Chief Minister Prem Kumar Dhumal congratulated Santosh Saini and Chet Ram Negi, former Parliamentary Secretary, for being elected as Chairperson and Vice-Chairman of HIMFED in the elections held at Shimla last evening. Santosh Saini has been elected Chairperson of HIMFED for the second time. Both newly elected dignitaries met the Chief Minister at his office.
Chief Minister said that HIMFED had been given the responsibility of co-operative marketing of the produce of Himachal Pradesh in different market terminals. He said that with the constitution of new Board, activities of HIMFED would get boost and cooperative movement get strengthened. He advised the entire Management to work with commitment and dedication to deliver prompt and best services to the people of the State.
The newly elected Chairperson and Vice-Chairman thanked Chief Minister for reposing faith in them and providing opportunity to serve the organization. Both assured the Chief Minister of their best of services to the people of the State.