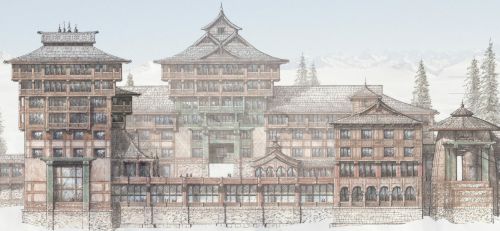 In a major breakthrough to the tourism in Himachal Pradesh, the Himachal Pradesh High Court has given clearance to upcoming multi-billion dollar Himalayan Ski Village project near the tourist resort of Manali.
The court has set aside the government order to scrap the Rs.1,581.10-cr project, being developed by Alfred Ford-promoted subsidiary Himalayan Ski Village Private Ltd, and allowed the company to get going after obtaining necessary clearances.
In a 77-page judgement, a Justice Rajiv Sharma observed that state government observation to cancel the project was based on ritual. Court said that the notice issued to the company Jan 7, 2010, was without jurisdiction and authority of law and added that the government action to issue notice was unreasonable.
However, the court directed the company to obtain necessary clearances which included environmental clearances from all concerned authorities within a period of six months.
The Himalayan Ski Village Company has Memorandum of Understanding signed with then Virbhadra Singh government in December 2005 for establishing the project. But it got strong opposition from the locals. But Virbhadra Singh Govt signed implementation agreement with company in 2006. But in 2007 two public interest litigations 892/2007 & 1237/2007 opposing the project filed before the Himachal High Court. And later Congress Govt lost the election and BJP led government under Prem Kumar Dhumal assumes office and in Dec 2009, the Himachal government cabinet decides to serve a cancellation notice for the controversial project on the promoters. After that Himalayan Ski Village Private Ltd moved to HP High Court and obtains a stay on the government move to cancel the project.