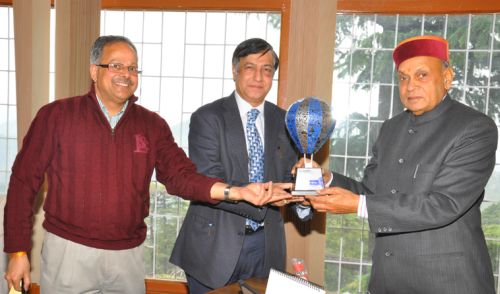 Himachal adjusted the Best Adventure Destination-2011 Award and while receiving the honor, Chief Minister Prem Kumar Dhumal said that Tourism Sector would be contributing about 25 percent towards the State Gross Domestic Product (GDP) and generates vast employment and self employment avenues.
Chief Minister congratulated the Department of Tourism and Civil Aviation, travel agents, hoteliers, organizers of trekking and adventure sports expeditions and all those who had been contributing significantly under different tourism promotion activities to make Himachal Pradesh the choicest destination for tourists visiting the State. He said that winning such a prestigious award was a tribute to the adventure avenues in the State and the development of the same would result in repeated visits of tourists to experience to the State. He said that out of the total of over five dozens of awards won by the State during past four years, maximum had been won by Tourism itself. He said that such awards were testimony to the progress State was making on tourism front. He said that tourists' visits were increasing with every passing year. He said that during preceding year 1.5 crore, tourists had visited the State which was double to the population of the State for different reasons during different seasons. He said that state had recorded the highest, about five lakh, foreign tourists visiting any State in the country.
Prof. Dhumal said that the Tourism Department had launched various innovative schemes keeping in view the diversified tourism activities which had yielded desired outcome. The number of tourists visiting rural areas had also increased as they have an opportunity to experience traditional hospitality of Himachal Pradesh. He said 'Home Stay' scheme had gained popularity and a large number of hospitable villagers were coming forward to register their houses under the scheme to associate themselves with the tourism promotion activities. He said that ambitious scheme of 'Har Gaon Ki Kahani' was providing a peep into the historical background and interesting stories associated with different villages of the State. He said that adventure tourism was finding favour with youth which was a welcome step to channelise their energy towards constructive activities. He said that the State Government was endeavouring to strengthen the tourism sector and involve every individual in different tourism activities to make Himachal Pradesh a leader in tourism sector in the country.
S. Roy, Chief Secretary, who also holds the charge of Principal Secretary (Tourism) said that adventure tourism was gaining popularity in the State. He said that world class river rafting and para gliding facilities were available in the State. The heli-skiing and conventional tracking was also popular with the youth. He said that heli tracking would also be organised in the near future and adventure activities would further proliferate under rural tourism flagship programme; Har Gaon Ki Kahani'. He said that friendly environment of the State was attracting more and more foreigners to lesser known adventure destinations and activities like rowing, canoeing, zorbing and river crossing by conventional methods was gaining momentum. He said that mountain biking was also being organised regularly for the past many years to promote eco-friendly transport system. Dr. Arun Sharma, Director Tourism and Civil Aviation was also present on the occasion.