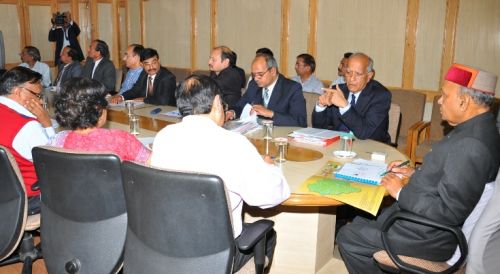 In a review meeting with Home Department, Chief Minister Prem Kumar Dhumal claimed that the law and order condition in Himachal Pradesh was the Best in the country. The crime rate was the very low. He said that Himachal Pradesh was popularly known as land of Gods and Goddesses, people having immense faith in devotional powers, resulting into security of life and property of people in the State. He said that the services being rendered by policemen were exemplary and their friendly behaviour had always been appreciated by people.
Chief Minister said that the State Government had modernized its police force by equipping them latest facilities to deal with the situation. He said that 122 vehicles had been equipped with Global Positioning System 68 doppler radars and 121 alcohol sensors had been provided to field functionaries to keep vigil over the traffic rules violators. He said that time frame of 15 days had been fixed to redress public complaints at police station level, 21 days at sub-division level and 30 days at district level besides deciding cases related to accidents within one month, special cases in three months and other in six months. He said that Himachal Pradesh had led the nation in introduction of SMS service for registration of complaints and 70 cases had so far been registered and with a view to keep pace with the technological advancements all the 100 police stations had been connected with internet and web based services, where Himachal Pradesh had also achieved first ranking in the country and on line traffic service was also being launched.
Prof. Dhumal said that the State Government had adopted the Election Manifesto of the Party as Policy Document of the State Government and not only implemented each and every promise made therein in letter and spirit but also performed beyond the scope of the Manifesto. He said that it was in fulfillment of the promises made therein that honorarium of home guard volunteers had been increased from Rs. 130 to Rs. 200, complaints relating to conversions viewed seriously; ration allowance of police personnel increased from Rs. 100 to Rs. 150 per month, 57 new vehicles provided to strengthen fire services network. He said that efforts were being made to provide video conferencing facilities in jails by linking them with the courts so that there was no risk of transporting under-trials to the courts. He said that 15 percent reservation in recruitment was being provided to home guards volunteers for posts of police constables and jail wardens. He said that State had ranked first in retention of home guard volunteers upto the age of 58 years.
Chief Minister laid stress upon delivering quality services to people through better policing and winning the trust of the masses by making their presence visible in different places. He said that the State Government was adopting humane approach towards the under trials and convicts by providing them vocational and education facilities through IGNOU and permit telephoning to their identified relatives. He directed the authorities to adopt practical approach in maintenance of law and order besides delivering prompt services. He said that Himachal Pradesh had to be a model in the country not only in other sectors but in maintenance of law and order also. He directed the authorities to deal strictly with criminals and law offenders, especially those involved in drug trafficking related offences.
P.C.Dhiman, Principal Secretary Home, welcomed the Chief Minister and thanked him for liberal approach towards the requirements of police personnel. He said that police modernization had benefited in dealing with criminal natured people more effectively.
Dr. D.S. Manhas, Director General of Police, detailed the achievements of the police department and said that with liberal funding by the Government, quality infrastructural and functional facilities had been provided for effective functioning of the police. He thanked Chief Minister for filling up of vacant positions and promoting police personnel which had benefited about 3,000 police personnel. He assured the Chief Minister of making Himachal Pradesh a role model in all respects and protect life and property of the masses.
Bharti Sihag, Principal Secretary Forests, Dr. Srikant Baldi, Principal Secretary Finance, Ajay Mittal, Principal Secretary to the Chief Minister, I.D.Bhandari, B.Kamal Kumar, Director General of Police, S.R.Mardi and K.C.Sadyal, Additional Director General of Police, Ashok Sharma and S.R.Sharma, Inspector General of Police and other police officers were present in the meeting.