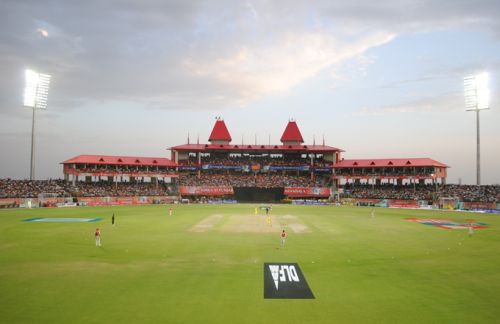 Picturesque HPCA Dharamshala stadium is getting ready for the Indian Premier League matches on May 17 and 19. Kings XI Punjab will take on Chennai Super Kings on 17th May and Delhi Daredevils on 19th May. IPL league matches are on its last leg and encounter at Dharamshala stadium will be crucial for host Kings XI Punjab, previous champion Chennai Super Kings and star studded Delhi Daredevils.
Delhi team is on the top in the chart and would like to carry on the fantastic form of its key players. And on the other side Kings XI Punjab will have to win the both encounter at Dharamshala stadium to secure its position in play off, whereas solitary encounter at Dharamshala will be a crucial one for Chennai Super Kings as well.
IPL matches are also crucial for HPCA as ICC had approved Dharamshala stadium for ODI matches, scheduled to be held in January 2013.
President Himachal Pradesh Cricket Association (HPCA), Anurag Thakur said that his team's main focus is on India-England match. Dharamshala has hosted a number of IPL matches over the past couple of years, serving as the second home for the Kings XI Punjab franchise. This is the third season of IPL and the city has got a facelift with roads being re-laid and around 1500 police personnel's deployed for the upcoming matches.
The tickets for the May 19 match is also all sold out. The organisers claimed that the arrangements are all complete and the venue is all prepared to host Himachal Pradesh chief minister PK Dhumal, the guest of honour in these matches.