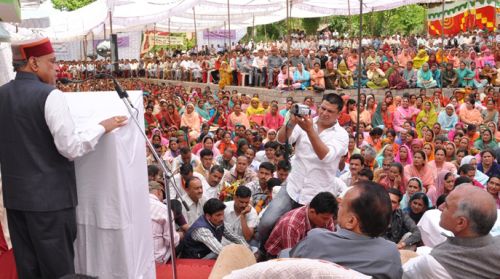 In a public meeting at Narla in Paddhar Sub-Division of district Mandi, Chief Minister said that detailed Project Report of Bhubhu Jot tunnel project had been prepared and construction work will begins on priority. Chief Minister also inaugurates the newly constructed building of Government Degree College, Paddhar, completed at a cost of Rs. 4.5 crore.
Chief Minister also criticised previous Government for misleading electors of district Mandi for issuance of notification for opening a medical college in Mandi after notification for election to Vidhan Sabha issued. He said that similar was the case of setting up of IIT at Kamand and Sub-Divisional Magistrate Office at Paddhar. He said that no serious efforts were made by previous government to implement the projects. He said that it was during BJP regime that effective steps had been taken to set up this college. He said that 'Paddhar College' building was completed in a record time of three years.
Prof. Dhumal said that the State Government had raised the issue of taking out habitats out of the purview of sanctuary area and contested the same upto Hon'ble Supreme Court. He said that about 1.25 lakh populated area had been taken out of the sanctuary area in Mandi, Kullu, Bilaspur and Kangra districts. He said that the report had been prepared by the High Powered Committee which was being submitted to the Government of India which would be followed by de-notification of the populated areas. He said that the State Government had restarted the saw mills closed during Congress regime and lifted ban on felling of Khair trees. He said that each of the 16.5 lakh domestic consumers were provided four CFL bulbs free of cost under Atal Bijli Bachat Yojna, which had resulted into saving electricity worth over Rs. 100 crore. He said that housing grant to BPL families had been increased from Rs. 27,500 to Rs. 48,500. He said that Atal Swasthya Sewa had proved to be a boon to the people of the State.
Chief Minister said that with a view to bring about uniformity in the state owned educational institutions, the State Government had launched ambitious Atal School Uniform Scheme, providing two pairs of school uniform to each of the student upto matric standard. He said that check ups of school children were being conducted under Mukhya Mantri Vidyarthi Swasthya Karyakram, besides providing de-worming pills to them. He appealed to the people, especially party workers to help youth in channelizing their energy towards constructive activities and not fall prey to drug peddlers.
Prof. Dhumal said that the BJP Government had carried uniform development of the State by rising above political considerations and added attention was paid towards the areas which had remained under developed to bring such areas at par with other areas. He said that record funds had been made available to all the assembly segments to give pace to developmental activities, as funds had never been any constraint with the BJP Government. He said that previous government had been claiming credits for the development which was well known fact to the people of the area. He said that free institutional delivery, medicines, ambulance service and related test facilities were available to the pregnant women and infants besides catering to their health care needs for one more year. He also assured people of the area to consider their genuine demands sympathetically. He sanctioned Rs. 2 lakh for boundary wall of GMS, Sahal; Rs. 2 lakh for boundary wall at GMS Kunnu and Rs. 2 lakh for boundary wall of Harad Boi school.
Earlier Chief Minister also laid foundation stones of New Laboratory Block of Institute of Excellence Dravya Gunna and Medicinal Plant, ISM, estimated to cost Rs. 1.74 crore and Circle Ayurvedic Hospital Building, at Jogindernagar, estimated to cost Rs. 35 lakh. Later Chief Minister also dedicated Primary Health Centre, constructed at a cost of Rs. 45 lakh, at Pali to the local people.
Jai Ram Thakur, Panchayati Raj and Rural Development Minister, thanked Chief Minister for taking lead in opening ESI Hospital and Medical College at Ner Chowk and providing funds for completion of degree college at Paddhar. He said that prestigious IIT had also been made possible to open when Prof. Dhumal provided land and related facilities to the institute. He said that visionary and dynamic leadership of Prof. Dhumal had earned laurels to the State at national and international level. He said that compared to only Rs. 5 hike in daily wages by previous regime, the BJP Government had increased daily by Rs. 55, which was a record in itself.
Jawahar Thakur, Senior BJP Leader, congratulated Chief Minister for winning record national and international level awards in different sectors for the State. He thanked for opening IIT at Kamand. He said that Rs. 20.5 crore had been spent in Drang Assembly segment on different development activities during preceding year. He said that Rs. 54 crore had been spent under MNREGA and 627 beneficiaries sanctioned houses under Atal and Indira Awas Yojna, besides 191 poly houses in the segment. He also detailed other developmental activities which had taken place in the area during past four years. He said that 9 bridges had been constructed in the segment, Rs. 2.5 crore spent on providing social security pension to 1,500 eligible pensioners. He urged Chief Minister for construction of Mini Secretariat at Paddhar, take out Chohar area of the Sanctuary area, Sub-Tehsil at Tikkan, Marketing Yard at Barot etc..
Dalip Singh Thakur, Pradhan, Gram Panchayat, Padhar, welcomed the Chief Minister to his home panchayat and thanked him for dedicating impressive college building to the students of the area and also apprised him of local demands.
Gulab Singh Thakur, Public Works and Revenue Minister, Dile Ram, MLA, President, District Mandi BJP and Chairman, State Finance Commission, D.D.Thakur, former MLA, Kheera Mani, Chairman, Zila Parishad, Raj Bali, Chairman, Minorities Welfare Board, Devesh Kumar, DC, Abhishek Dullar, SP, P.S.Draik, Director of Ayurveda, Dr. Dinkar Burathoki, Director of Higher Education, P.C.Verma, Chief Engineer, Central Zone, PWD , other senior leaders and prominent people of the area were present on the occasion.