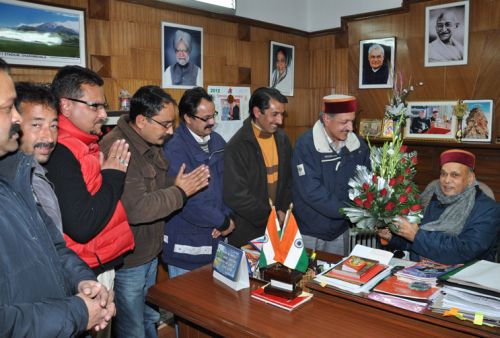 Dr. Ashok Kapatia today joined as Vice-Chairman of Media Advisory Committee (MAC) here today.After assuming the new office Dr. Kapatia thanked the Chief Minister Prem Kumar Dhumal for his appointment to the coveted post. He said that it was a matter of pride for the State to have bagged 55 Awards at national and International level during last four years of its regime. Besides, the pace of development had been accelerated during this era of BJP and Himachal Pradesh had emerged as a role model in the field of development.
He said that the State Government had launched various schemes for the welfare and socio-economic uplift of common man which were being implemented effectively.
He said that the committee would be maintaining cordial relations and co-ordination with both print and electronic media and would leave no stone unturned to effectively disseminate the policies and programmes of the State Government through different media, down to common man.
MLA, Suresh Bhardwaj, Chairman, HP State Co-operative Bank, Chander Mohan, OSD to Chief Minister, Sanjeev Katwal, State BJP media co-ordinator, Ajay Gautam and other senior leaders of Sate BJP unit were present on the occasion.