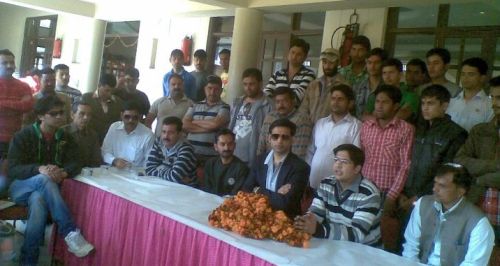 Although, Raghubir Singh Bali could not emerge a victor in the election for the president of the youth Congress, yet his morale is high and he is looking to fulfill his vows to get more and more dynamic youth of the state under the banner of youth Congress. During his campaign for the youth Congress election, he visited the entire state and met elected youth congress delegates and other workers of the party.
Raghubir Singh Bali is not dishearten with the election result, saying that he is more rejuvenated then before, and declared that he will put his energy into strengthening the Indian National Congress at every level. He made clear his intention and said that he will start work at booth level and will motivate youth of the state to work for social causes that will benefit the county at large. While talking about other competitors for the president post, Bali said that they are all from one big family and their sole motive is to strengthen the party.
He said that he do not have any animosity with other candidates and assures his support and help to spread the developmental message of Indian National Congress, that is serving the nation since the last 127 years and has been instrumental in the development of India.
The 32 years young politician, who inherited politics from his father and former minister G. S Bali, a Congress stalwart from Kangra region of Himachal Pradesh, is looking forward to work for the masses and promised to make every youth of the State a part of development of Himachal Pradesh.
While talking about the current scenario of the State, Raghubir Singh Bali lashed at the present Government and said that their wrong policy will throw them out of power in the coming elections. Bali said that while touring the state he found the roads in terrible condition, and even main roads of the State are in a bad shape. The lack of infrastructure and maintenance is directly hampering the pace of the development of the State.
He said that the Government has failed to generate employment in the State, which is bad for the youth. Youth of Himachal Pradesh are educated, but because of scanty opportunity, they are unable to showcase their talent. He promised to unearth new areas of employment and assured youth of the State with better and bright future.