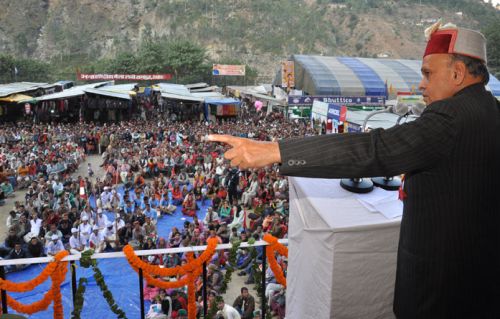 Four day long International Lavi fair concludes today, Chief Minister Prem Kumar Dhumal was the chief guest of the function. In the ceremony Chief Minister said that 70 Kms new roads were construction, 31 PMGSY project completed and additional road in 131 villages of 42 Gram Panchayats provided in last three years in Rampur area of Shimla District. He also inaugurated Rs. six crore Govind Ballabh Pant Government Post-Graduate College, Rs. 68.18 lakh Centre of Excellence Auto-Mobile ITI Bhawan at Racholi and laid foundation stone of Rs. 63.30 lakh Tribal Bhawan at Khaneri.
Chief Minister said that the State Government was committed for uniform and balanced development of the State and added that Government ensured development of the State without any discrimination with any area. He said that nine buildings constructed, 19 new villages provided road facility and 70 kms., roads mettled and 43 kms., new road constructed in last three years in Rampur areas. He said that Rs. 70 lakh Scheduled Caste Hostel would soon be constructed at Rampur. He said that the work of many projects was in progress and added that a road for newly constructed bus stand would also be constructed so that better transport facility could be provided to the passengers. He said that Rs. 8 crore milk powder plant was being constructed by the Government at Dutt Nagar. He said that the economy of the farmer and milk producer was being strengthened through Rs. 300cr Doodh Ganga Project. He said that the work of replacing the root stock under Rs. 85 crore apple replantation project was in progress. He said that Rs. 353 Pt. Deen Dyal Kisan Bagwan Samridhi Yojna and Rs. 321 crore JICA projects were also implemented in the State and added that farmers and Horticulturists of the State were being benefitted under these schemes of worth Rs. 1100 crore in the State.
Chief Minister also congratulated the people of the area of Lavi fair and added that such fair also strengthen the bonds of brotherhood. Referring to Parchu lake flood, he said that Government carried out relief and restoration works on war footing and constructed Wangtu main bridge in time-bound manner and connected the Kinnaur district with the State. He said that Government transported the produce of the farmer and fruit growers through helicopter, boats etc. to the nearest marketing yards of the State and protected the interests of these people. Chief Minister also announced Rs. 3 lakh for pelan road, Rs. 2 lakh for Chamada-Ghurga road, Rs. 2 lakh for Government Middle School Bathli, Rs. 2 lakh for community bhawan Delath, Rs. 2 lakh for Kethala road, Rs. 2 lakh for Khadahan temple, Rs. 4 lakh for Gram Panchayat Shahodhar, Rs. 3 lakh for Yuvak Mandal Jeory besides many other roads of the area. Dhumal also gave away prizes to the winners of various competitors of exhibitions etc. He also released souvenir on the occasion.
Welcoming the Chief Minister Shri Tejwant Singh Negi, MLA, welcomed the Chief Minister and said that the Lavi fair of Rampur was the oldest and trade fair of the area. He also congratulated the Chief Minister for getting 50 national level awards to the State. Nand Lal, Local MLA also welcomed the Chief Minister. He also apprised the Chief Minister about the developmental activities carried out in Rampur area. Onkar Sharma, Deputy Commissioner, Shimla and Chairman of International Lavi fair also welcomed the Chief Minister and detailed out the activities of the fair. Deepak Sood, President Nagar Parishad present vote of thanks on the occasion. Horticulture Minister Narinder Bragta, Rikhi Ram Kaundal, Deputy Speaker, H.P. Vidhan Sabha, Suresh Bhardwaj, MLA, Ninju Ram, former MLA, District BJP President and Sher Singh Chauhan, Chairman Land Development Bank, Brij Lal, Chairman Kailash Federation were present on the occasion.