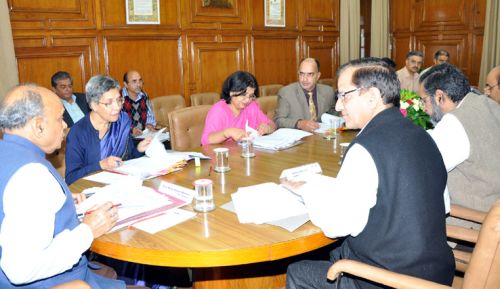 The State Level Single Window Clearance and Monitoring Authority (SLSWC&MA) in its 54th Meeting held here today under the Chairmanship of Chief Minister Prem Kumar Dhumal, granted approval to 9 new proposals for setting up of industrial projects in the State besides 21 expansion and revised proposals entailing an expenditure of Rs. 707.55 crore and generate employment to 42,896 persons.
Chief Minister directed the authorities to regularly hold Meeting of the Authority and monitor the progress of clearances to be granted by different departments. He said that concerned departments needed to be directed to ensure granting clearance within the stipulated period of time so that no time was lost in granting permission to the investor to set up their units. He said that the State Government was according top priority to grant permission to the industrial proposals by setting up of Single Window Clearance and Monitoring Authority where all top officials of the concerned departments remain present. He said that all proposals received by the department needed to be expedited after observing all codal formalities. He said that progress of clearances needed also to be monitored separately and detailed note presented in the meeting. He said that in view of the best industrial investment friendly environment of the State entrepreneurs from within and outside the country were showing interest in making investments which needed to be encashed and more investors motivated to invest in the State.
Chief Minister said that the State had been encouraging eco-friendly and employment generating industrial units for setting up. He said that since the State had all the required basic industrial inputs available hence more companies were coming forward with their proposals. He said that all such proposals needed to be scrutinized closely and interest of the State protected at all level. He said that the condition of 70 percent employment to the local youth also needed to be monitored strictly.
Industries Minister, Kishan Kapoor said that since the border areas of the state were getting congested with the industrial units setting up hence the new proposals were being considered for the lesser developed industrial areas so that the entire State could industrialise uniformally.
Earlier, J.S. Rana, Director of Industries, welcomed the Chief Minister and conducted proceedings of the meeting. He detailed the initiatives being taken by the department to woo industrial investment. Rajwant Sandhu, Chief Secretary, Harinder Hira, Additional Chief Secretary, Dr. Deepak Sanan, Principal Secretary Revenue, Manisha Nanda, Principal Secretary Tourism, Dr. Nagin Nanda, Secretary, Environment and Pollution Control, R.K. Sharma, Engineer-in-Chief, IPH, Sanjay Sood, Member, Environment and Pollution Control Board, Dr. Rajender Chauhan, Industrial Advisor, other senior officers of different departments were present in the meeting.