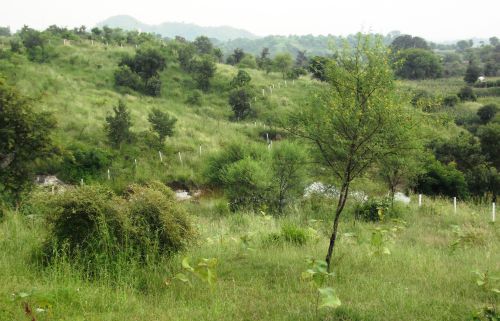 United Nations has officially registered 365 crore cost H.P. Mid Himalayan Watershed Project for carbon trading scheme under United Nations Framework Convention on Climate Change (UNFCC).
This is first such project on public land to be registered for carbon trading in India
Under the carbon trading scheme, a wholly new business has developed in the commodity markets in state in which the 5000 families from remote and backward villages will receive carbon revenue for next 20 years from World Bank for providing green cover to 4000 hectare barren land area falling in 10 districts of the state. All these areas were classified as deforested before 1990.
The UN scheme has set a price of about 2500 per hectare per annum of carbon which will be measured depending on the growth of tree biomass. The biomass stocks will be periodically measured from permanent plots to estimate the carbon revenue.
The project is estimated to generate carbon revenue of at least Rs 20 crore to the communities and individual land holders for the first crediting period of 20 years, which is strong incentive to protect forest cover .The first payment is likely to be disbursed to the stakeholders in next two years said Sh .R. K. Kapoor, Chief Project Director. The project is expected to sequester the emission of 800 million tons of carbon dioxide from 2006 to 2025 by promoting biodiversity through native species in remote areas.
The project will reduce 40,000 tonnes of Carbon dioxide per year for a 20 year crediting period beginning from the year 2006, the project is initially for 20 years which can be extended to total 60 years period.
Under the Emission Reductions Purchase Agreement, the bank will buy 3.5 lakh temporary certified emission reductions (tCERs) for plantations raised over 4,003 hectares in the first phase covering the period 2006-2018 depending on the growth of biomass.
The total actual net greenhouse gas (carbon dioxide) removal by trees for the total project area over the First crediting period of 20 years due to the implementation of afforestation under CDM is 8,28,016 tCO2-e of TCERs over the first crediting period of 20-years at the rate of 10.34 tCO2-e/ha/year.
H.P. Mid Himalayan watershed development project is the first pilot project for India and is the world's first carbon credit project that is linked to an ongoing watershed management programme having broad objective to sequester greenhouse gases by expanding forestry plantations on mostly degraded lands apart from creating a carbon sink.
R. K. Kapoor, Chief Project Director headed the six member official team which devised the project on the baseline study, land eligibility and other international parameters for registering the project.
A high level three members team of world bank headed by Ranjan Samantaray, Team Task Leader (India), Rama Reddy, Technical Expert, Washington and Monali Ranade, Deal Manager, Washington are part of the project to access and monitor on international stringent parameters .