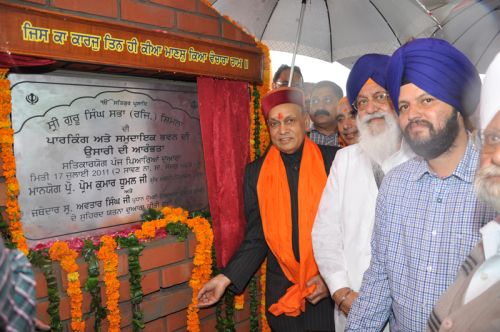 Chief Minister Prem Kumar Dhumal lays foundation stone of proposed Parking, Community Centre and Langar Bhawan adjoining the Gurudwara Singh Sabha near main bus stand Shimla. It is estimated that it will cost around Rs 1.5cr. Horticulture Minister Narender Bragta, MP Anurag Thakur, Virender Kashyap, MLA Suresh Bhardwaj, Vice Chairman, HIMUDA, Ganesh Dutt, A.N. Sharma, Commissioner, MC, Shimla and other prominent persons of the town were also present on the occasion.
While addressing the gathering Chief Minister said that it was evident from the time immemorial that the Sikh community had always been living in cordial and friendly manner with all communities. He said that the contribution made by the 9th Guru of Sikhs, Shri Teg Bahadur to protect Kashmiri Pandits was rather historical in itself and would always be remembered. He said that the evil designs of few anti social elements to create difference between various communities from time to time was unfortunate and against spirit of all religions.
Prof. Dhumal said that the State Government had always extended its support to the Sikh Community which would continue in future also. He said that the State Government had set up Eternal University at Rajgarh in Sirmaur where the students from within and outside the State were being provided quality and value education. He said that as per evaluation done by Ministry of Human Resources, Govt. of India, there was need of opening 1000 private universities in the country. He said that some vested interests of like minded persons were opposing the setting up of private universities in the State which was unfortunate. He said that with the opening of private universities in the State the students were getting quality education at their door-steps and thereby saving them from financial and other hardships which otherwise they had to pay for getting higher education in other parts of the country.
Jathedar Avtar Singh, Shiromani Gurudwara Prabandhak Committee, Amritsar thanked the Chief Minister for including Punjabi subject in 100 schools of the State and appointing teachers in these schools. He also thanked the Chief Minister for providing land for construction of Parking and Community Centre. He also urged the youth of the community to come forward for serving the humanity.