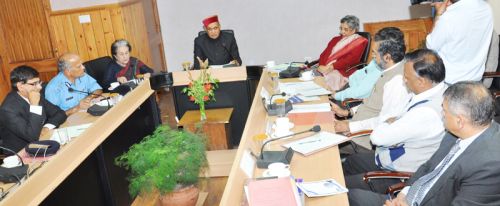 Chief Minister exhorted the Police personnel to maintain integrity, honesty, dedication and devotion as above all good behaviour to maintain the image for which Himachal Police was known in the country. He said that police should be benefactor of poor, disable, old women and down trodden and vulnerable section of the society. Chief Minister was presiding over a meeting of Police Board here today.
He said that Police should keep strict vigil on criminal and anti social elements. He said that unprecedented improvements had been witnessed in the law and order situation of the State and people had great faith in law and order machinery and above all the Govt.
Chief Minister said that in modern era the role of police personnel had changed immensely and it should be benefactor of the people. He said that problems of rural people needed to be resolved at grass root level and relief should be provided to them at the earliest. He said that police personnel should ensure safety of the man and material and be sober and friendly in behaviour. He said that it had also been brought to his notice that complaints of the people are not attended to and added that it was the duty of the policemen to register the complaints of the people and any negligence would resort to disciplinary action against them. He also directed the Police officers to give all necessary directions to the trainee police personnel so that they could discharge their duties earnestly and with dedication.
Chief Minister said that Police should also keep vigil over educational institutions and ensure that anti-social elements could not involve students in drug abuse trade. He said that instances of ragging should also be taken seriously. He said that owing to prevalence of domestic violence laws, the cases of women atrocities had been declined in the State.
Chief Minister said that State Government was considering to set up separate investigating wing in Police Force and to complete law process through video conferencing in courts and jails. He said that Government would also take up the matter to set up additional RBI with the Central Government so that more youth could get employment avenues.
Chief Minister also appealed the policemen to help Government to remove encroachments on government land and also directed to make all necessary arrangements in all religious shrines during ensuing festivals, fairs for the convenience of the people.
Chief Minister directed the Police Officers to keep vigil on travelling in trucks during marriage and religious ceremonies and ensure its prevention. He also directed to formulate a policy for proper maintenance of increasing vehicular traffic.
Vidya Stokes, Leader of Opposition expressing satisfaction over the law and order situation in the State said that with the efforts of the State Government, the decline in women atrocities has witnessed in the State. She also stressed the need for improvement in law and order situation in industrial areas of the State.
Chief Secretary Rajwant Sandhu, stressed the need for rationalization of police force and added that joint meeting of all concerned departments be convened to sort out all the problems in public interest. She also stressed for deciding pending cases and help in removing encroachments on government land. She said that Rs. five crore had been released for modernization police.
Earlier Dr. D.S. Manhas, Director General of Police welcomed the Chief Minister and detailed out the activities carried out by the Police Department. He said that due to various reforms taken from time to time in police working system, about 80 percent improvement was witnessed in police working. He said that 4500 posts were filled up in last three and half years in police department.