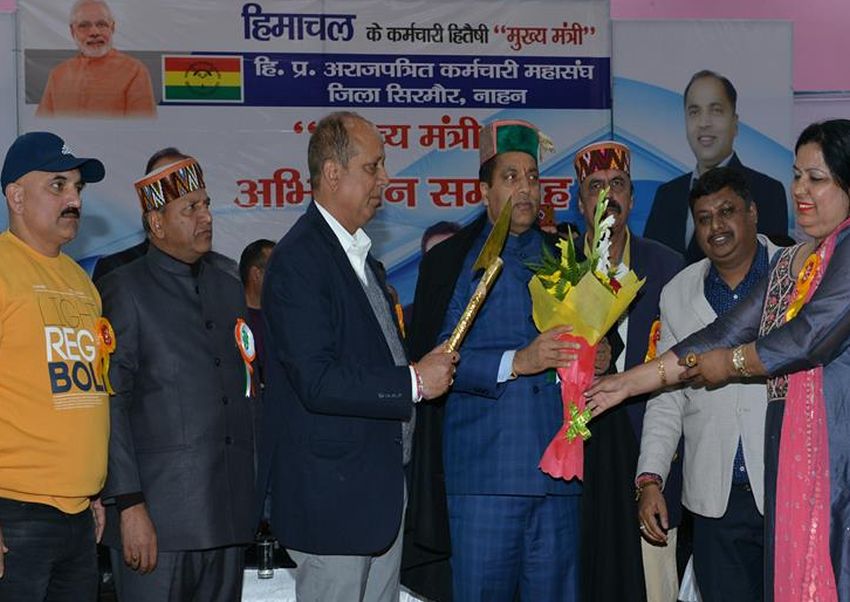 Nahan: Chief Minister Jai Ram Thakur hailed the contribution of state government employee and called them backbone of the Government. The Chief Minister, while addressing the 'Abhinandan Samaroh' organized by Himachal Pradesh Non-Gazetted Officers Association, Sirmour district at Nahan today, said the employee play an important role in effective implementation and dissemination of policies and programmes.
Jai Ram Thakur said that the state government has always maintained cordial relation with its employees and has ensured that they get best treatment. He said that it becomes duty of the government and the employees to work collectively for betterment of the State so that Himachal emerges as the most developed State of the Country.
He said the state government has announced to enhance the government contribution under the New Pension Scheme from existing 10 percent to 14 percent in this year's budget. This decision would benefit over 80,000 New Pension Employees of the State.
Jai Ram Thakur said that all the genuine demands of the employees were being redressed and they were being provided financial benefits from time to time. He said that the emoluments and honorarium of various categories of employees have been increased considerably to provide them relief and in future also all the genuine issues of the employees would be redressed in a phased manner.
Speaker, Vidhan Sabha Dr. Rajiv Bindal said that the present state government was employees friendly and has provided several relief and financial benefits to them.