New Delhi: Union Health Minister JP Nadda today launched the National Viral Hepatitis Control Program to mark the World Hepatitis Day, 2018. Nadda reiterated Union government commitment to work towards eliminating viral hepatitis as a public health threat by 2030 in the country.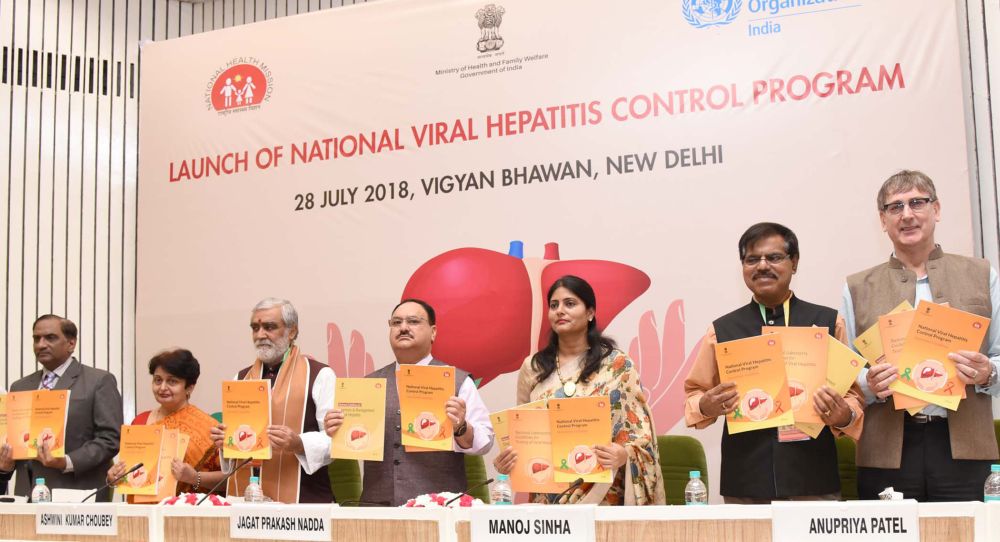 The aim of the 'National Viral Hepatitis Control Program' is to reduce morbidity and mortality due to viral hepatitis. The key strategies include preventive and promotive interventions with focus on awareness generation, safe injection practices and socio-cultural practices, sanitation and hygiene, safe drinking water supply, infection control and immunization; co-ordination and collaboration with different Ministries and departments; increasing access to testing and management of viral hepatitis; promoting diagnosis and providing treatment support for patients of hepatitis B &C through standardized testing and management protocols with focus on treatment of hepatitis B and C; building capacities at national, state, district levels and sub-district level up to Primary Health Centres (PHC) and health and wellness centres such that the program can be scaled up till the lowest level of the healthcare facility in a phased manner.
Union Minister also released the Operational Guidelines for National Viral Hepatitis Control Program, National Laboratory Guidelines for Viral Hepatitis Testing and National Guidelines for Diagnosis and Management of Viral Hepatitis.
Nadda claimed that the Ministry is aggressively addressing the preventable diseases. He claimed of paradigm shift in designing the programme. He said
"Programmes are now designed at the ground level and all stakeholders are taken into the consideration. We are now making sure that the last person gets the benefit out of it,"
Nadda further said the Ministry has launched a campaign to end TB by 2025, five years ahead of global target. He said that the Government now has more than 1100 CBNAAT machines for rapid diagnosis of TB and provides daily regimen with fixed dose combinations. He further said that the programme has also initiated active case finding to screen more TB patients.
Nadda stated that the government has also launched the 'Test and Treat Policy for HIV' wherein as soon as a person is tested and found to be positive, he will be provided with ART irrespective of his CD count or clinical stage. Adding further, minister said that the government has also launched Rotavirus vaccine, Pneumococcal Conjugate Vaccine (PCV), and the Measles-Rubella (MR), Pneumonia vaccine and one thing that was remaining was Hepatitis, today with this launch we will be offering free drugs and diagnostics for hepatitis B & C.